Fine Arts Cell
Mr. Ajesh Antony (Advisor)
Dr. Mejoy Jose
Dr. Anto P. V.
Ms. Reeja Johnson
Ms. Sindhu George
Mr. Renjith Varghese
Dr. Joby Paul
Dr. Johns Naduvath
Dr. Ann Mary K. A.
Mr. Rasin R. S.
Mr. Eljo Joseph T.
Dr. Shemi John
Dr. Sandhya Vincent Neelamkavil
Ms. Sheeba Raphel
Ms. Ashlin Mathew P. M.
Ms. Anu Jose
Mr. Sherin C. P.
Ms. Linni Wilson
Ms. Tina Rose
Mr. Mathew Thomas
Student Representative
Student Representative
To Nourish the Artistic Talents of the Students
To Support the Students to Excel in Their Area of Interest Other Than Academics
To Uphold the Cultural Heritage of Our Nation
College Fine Arts Fest
At its essence art is an alchemical process, a process of transformation that happens through the amalgamation of music, art, dance, words, and more. It is a platform to enunciate the true spirit of creativity and courage among students to concoct the next generation of maestros, performers, authors, and many more
St. Thomas College proudly hosts its arts fest every year, titled- "MIZHIVU" recognizing the zeal of our students. The competitions are conducted interdepartmental wise abiding by the rules of the D-Zone fest established by the University of Calicut. The cultural fest conducted in our college is one of the most indelible memories every student of us holds with verve and vitality. The cultural fest prolongs for a week with excitement in the air and is the most magnificent sight to comprehend.
Bidding adieu to the dubious pandemic, our college hosted its arts fest "MIZHIVU'22" after a wait of two years, jollying up the spirit of our students by conducting a wide range of competitions over literature, music, drama, art, and dance. As a true masterpiece does not tell everything, MIZHIVU'22 showed how sturdy and winsome a comeback can be. Students representing their departments competed with allegiance in competitions that were held in different venues in the college on the 28th of February, 1st, 2nd, and 3rd of March 2022. The quintessence of the competitions was contagious and the venues were real platforms of dexterity.
Dhwani – Online Arts Fest
The wake of the COVID-19 pandemic resulted in the lost opportunity for students' participation in MIZHIVU, and the unvaried resentment of students with their online classes called for the conduct of MIZHIVU arts fest through an online rostrum titled "Dhwani". This allowed the showcase of talents of our students within the safety and comfort of their homes. All the procedures of registration and submission of entries for the competitions were done online. The team of "Dhwani" encompassing the efforts of teachers and students made certain that the programs had their smooth conduct and were streamed on the college YouTube channel for the audience out there. The fest was inaugurated by cine actor Kalidas Jayaram. 'Dhwani' is a landmark in the history of our college and is credited as a successfully completed online fest.
Meetups
As the true expression of compassion towards the soul of art, the Fine Arts Cell of the college conceived an initiative of 'Friday Meet-up' where every Friday students gather together to present and cosset any form of art they have expertise in. The gathering is also a building of kinship among the students through flair. This accomplishment is the continuous efforts and selfless deeds of a group of teachers and students recognizing themselves through art.
Eastern band Represented University of Calicut at south zone inter university cultural fest held at Alagapa University , karaikudi
Instruments:
1.Tabla- Sujana.M.S- Department of Zoology
2.Keyboard- Elson Christopher-Department of Commerce(Finance)
3.Mridhangam-Nikhil.K.M-Drpartment of Mathematics
Vocals:
1.Alwin Thomas- Department of Mathematics
2.Arjun.K.C-Department of Commerce
3.Rosemol Jose-Department of Economics and Politics
4.Athira.K.Unni-Department of Commerce(Finance)
5.Sruthi.M.Nair-Department of Commerce(Finance)
6.Parvathy Mohan-Department of Commerce
Western band represented University of Calicut at All India Inter-University Cultural Fest and won second runner-up position
Team members
Instruments:
1.Guitar-George Mathew-Department of Commerce(S.F)
2. Keyboard -Elson Christopher-Department of Commerce(Finance)
3.Drums-Rony Jacob-Department of Media studies
Vocals:
1.Mahima Ramesh-Department of Commerce(Banking)
2.Lakshmi Muraleedharan-Department of Economics and Politics
3.Alex Peter-Department of Media Studies
4.Anugraphy Raphy-Department of English and History
5.Anne Rose David-Department of Economics and Politics
Activities
FINE ARTS FESTIVAL – MIZHIV 2022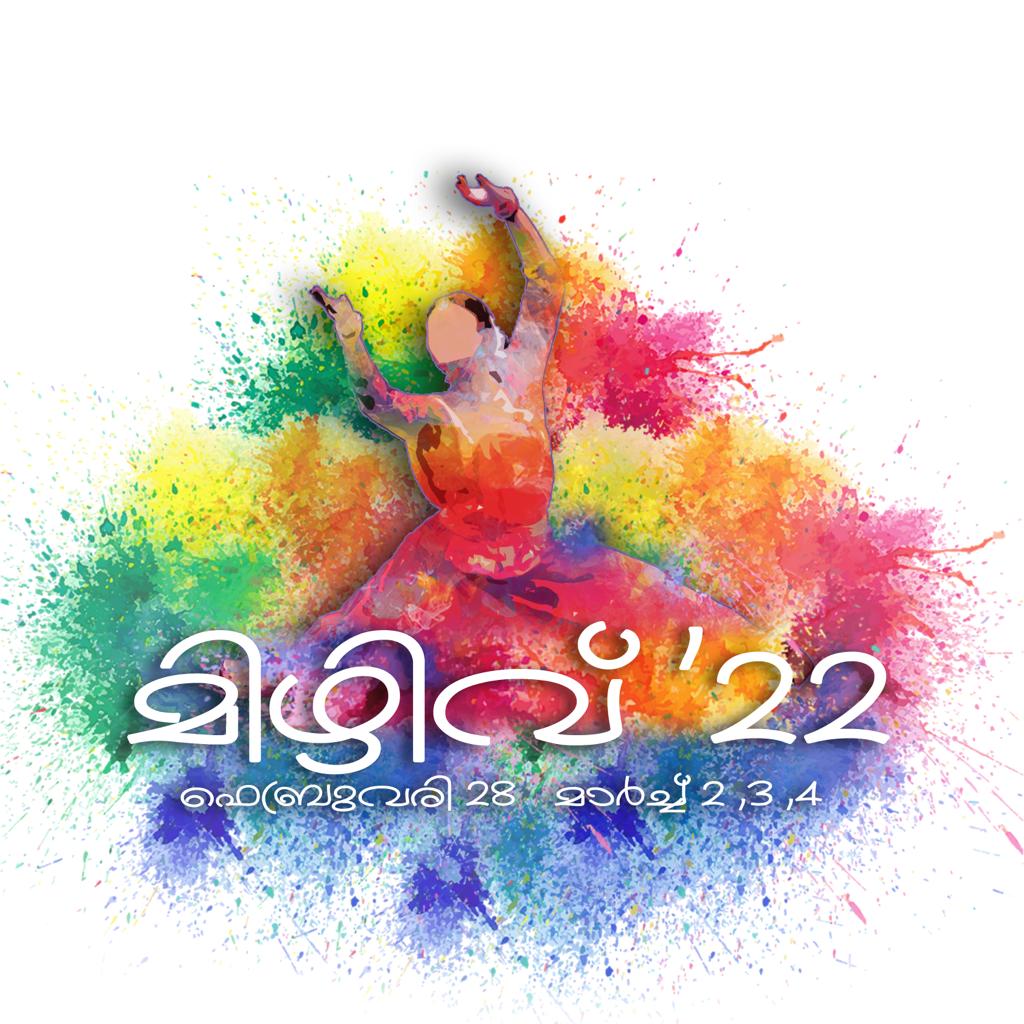 General guidelines:
📍One team captain and one team manager should be chosen by each department.
📍Every participant should register through https://ams.stthomas.ac.in/arts_application/
Before 8.00 PM , 27 February 2022
📍Before 11:30 a.m. on Monday, submit a list of applicants to the fine arts office, along with the department seal, and signatures of department captain and team manager.
📍Names and admission numbers should be mentioned in the list of applicants.
📍There is no limit for participation in off stage events for each departments .
📍A person can compete in up to four on-stage (single) activities.
📍Only two teams from each department are allowed to compete in the debate competition (one team each for malayalam and English debate).
📍Individual participation in group events is unrestricted.
📍Any complaints regarding events should be informed through respective team manager.
With regards
Fine Arts Cell, St Thomas college