FELLOWSHIPS & RESEARCH AWARDS
Dr. Joby Thomas K: INSA Teacher Award, 2016, Best Teacher Award  by Chemical Research Society of India -2011; M.M. Ghani Best Teacher Award by University of Calicut – 2014
Miss. Reeja Johnson: UGC Seminar; Best Poster award at S.N. College Nattika. 2015
Dr. C.D. Varghese: Cancer Care Award Kerala 2013; Social Awareness Award 2014; Hridayarpana Award for completing One lakh Cancer awareness seminars
Dr. Thomas M. T. received P D Sethi award 2010 for the best publication in Chromatography.
Dr. Joyce Jose: Dr. C. Chandrasekaran Memorial Gold Medal and Endowment Award for Excellent Research in Forest Management and Conservation in Kerala2010 byKFRI &KSCSTE.
Dr.T.A. Sajesh: Second Best Paper Presentation Award in National Symposiumon Statistics and its applications for Young Researchers, Organized by Departmentof Statistics, University of Madras, Chennai. (2013)
Dr. Rani Sebastian: Dr.M.N. Gopalan Young Statistician Award for the year 2011 organized by Indian Society for Probability and Statistics (ISPS).
Mrs. Jeena Joseph: Won the Women Scientist Scholarship under the DST Governmentof India.    (2014)
Dr. Anto Thomas C.:  Honoured as the Invited Keynote Speaker on Asian Childhood at  the 22ndBiennial Congress of the International Research Society forChildren's Literature held at the University Of Worcester, England – International Research  Society for Children's Literature
Dr. C.S. Biju – Charles Wallace Research Award – Charles Wallace Trust 2011.
RESEARCH FELLOWSHIP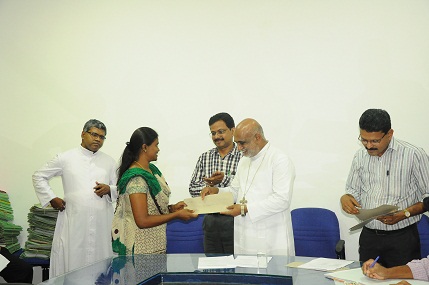 St. Thomas College(Autonomous) Thrissur thrive for quality research apart from the conventional teaching and learning process. During the past few years, the research scenario of the college has totally changed and all the faculty members are doing innovative research alongwith their teaching responsibilities. Currently nine post graduate departments in the college, namely Departments of Chemistry, Zoology, English, Commerce, Statistics, Economics, Botany, Mathematics and Physics are recognised research centres of University of Calicut and there are 30 recognised research guides in the college. Presently 62 research scholars are pursuing their Ph. D research and two are undergoing postdoctoral research under the guidance of these guides.Majority of these scholars avail varied research grants from different funding agencies. Still there are some full time research scholars in the college who are not getting any such fellowships/scholarships for research. In this context, the management of the college decided to establish research fellowship entitled as St. Thomas Research Fellowship to the full time research scholars in the college who are not availing any type of fellowships/scholarships for research. The Research Council of the college will select the eligible candidates for this fellowship and the distribution of this fellowship will be done by the Bursar of the college in consensus with the decision of the Principal of the college.
| | | |
| --- | --- | --- |
| Sl. No | Name of Research Scholar | Name of Guide/Coguide |
| 1 | BINSI.M.PAULSON | Dr. Joby Thomas K |
| 2 | DRISHYA SASIDHARAN | Dr. Paulson Mathew |
| 3 | DINOOP LAL | Dr. Sunil Jose T |
| 4 | RANJINI. S | Dr. Francy Kakkassery |
| 5 | SAJANA O.K | Dr. Sajesh T A |
| 6 | SOWMYA K.N. | Dr. Sanil Raj J |
| 7 | ANOOP S.VARRIER | Dr. Sanil Raj J |
| 8 | SOYA JOSEPH | Dr. Sanil Raj J |
| 9 | SAMEERA K.L. | Dr. Sanil Raj J |
| 10 | M.P. HARIKRISHNAN | Dr. K.P. Nanda Kumar/Dr. C S Biju |
| 11 | DHANYA JOHN | Dr. K.M.Francis |
Dr. Joby Thomas K
Coordinator
Research Council