CONSPECTUS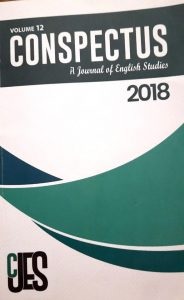 ISSN 0973-0990
This journal is published annually by the Research Centre & PG Department of English, St Thomas College, Thrissur, Kerala, India(Listed in University of Calicut Approved Journals)
Editor
Sanil Raj J., PhD
Associate Editors
K. F. Sebastian
Anto Thomas, PhD
C. S. Biju, PhD
Raphael Joseph
Copyeditor
Vibin Krishnan K.
Editorial Office
Dept. of English
St. Thomas' College Thrissur
Kerala, India, 680 001
Volumes
VERITAS
Journal of Sciences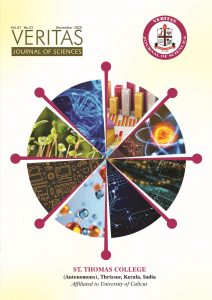 Veritas Journal of Sciences is a peer reviewed journal published by St Thomas College (Autonomous), Thrissur, Kerala, in the disciplines of biological, chemical, mathematical, physical and computer sciences.
Veritas Journal of Sciences seeks to facilitate critical study and in-depth reflection and analysis of issues, problems and concerns of human life, in order to further the directions and transformations human society needs to evolve into. It targets the scientific community, educational institutions, research centres, policy makers and any individual interested in and committed to human welfare.
SETalks
SETalks (Santhome Erudite Talks)
Faculty Development Lectures: During the academic year 2019-20, St Thomas College conducted a talk series for the members of faculty by one of the faculty members of the college. The first talk in the series, Enhancing teachinglearning and research through information resources was delivered by Sri Sanjo Jose, College Librarian, on Teachers' Day, 5th September. The second talk "Awareness on Snakebites, Envenomings, first aid and treatment" was delivered by Dr. Joyce Jose, Asst. Prof of Zoology.