Rt. Rev. Adolphus Edwin Medlycott, the Founder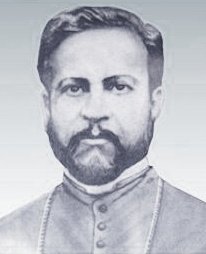 St. Thomas College was founded as an educational institution in 1889 by Rt. Rev. Adolphus Edwin Medlycott, the Vicar Apostolic of Thrissur. Mar Adolph Medlycott was the first Bishop of the Catholic Archdiocese of Thrissur. He was born at Chittagong on 15 May 1838.
Rt. Rev. Adolphus Edwin Medlycott, PhD, was formerly Professor of Rhetoric at the Propaganda College in Rome and was the author of India and the Apostle Thomas (London: David Nutt, 1905) which is a lasting monument of his scholarship in the history of the Syrian Christian community that he was to lead in its formative years of institutionalization.
In 1889, he, at first, founded 'St. Thomas College Lower Secondary School', primarily intended for resident ecclesiastical students. Subsequently, it became a High School in 1894. The naming of the school as "College" by Dr. Medlycott at the very inception of the institution, was symbolic of the mission the school was to shoulder in the subsequent years. Rt. Rev. Medlycott purchased the present site of the College, appointed Fr. Paul Alappatt, PhD as the Manager and Rector of the institution in 1895 and prepared plans to house the "College" in what he referred to as a "handsome structure".
It was the Rt. Rev. John Menacherry, who constructed the first building for the institution at the present site and shifted the "College" to that site in 1901. It was Fr. John Palocaren, M. A. (Edin.) – a member of the staff of the School and subsequently Headmaster of the School in August 1918 – who planned and piloted the "College Scheme" along with Prof. Joseph Pettah, the Chief Professor of History & Economics at the Murray College, Sialkot, Punjab (subsequently Professor at St. Thomas College, Trichur, University Reader in Economics of the University of Madras and Member of the Legislative Council, State of Cochin), Bishop John Menacherry and Fr. Francis Vazhappilly who was the Manager of the School.
Medlycott spent his last days in Bangalore where he died on 4 May 1918. His remains were later reinterred, first in the Basilica of Our Lady of Dolours in 1945.