Institutional Distinctiveness
Title: St. Thomas Multifaceted Learning: a unique, student-centred endeavour to mould socially responsible and competent professionals
          The vision and mission of St. Thomas College, Thrissur, emanates from the farsightedness of the visionary founder. As the institution cherishes over 100 years of service, the institution has reaffirmed its vision of 'transforming the youth through holistic education towards an enlightened society'. The vision is realized by 'St. Thomas Multifaceted Learning (SML)', a multidimensional, student-centred, learning beyond curriculum, connecting students, society and environment.
STML mainly includes Four dimensions: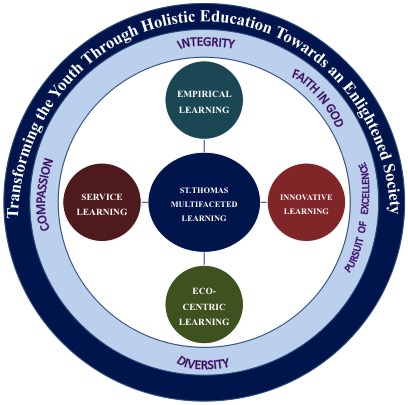 Dimension 1: Empirical Learning
          The distinctiveness of St. Thomas College has been explicated through the empirical learning endeavours prevalent in the institution as Students learn by doing and engaging themselves in hand-on activities, leading to their overall development. Empirical learning is realized through Soft Skill Development, Confidence Building Measures, Communication Skills, Decision-Making Skills through organization of events, Computer Skills, Training to be Professionals and Personality Development Measures.
Thomas SDP – Students are exposed to a good number of Skill Development Programs like ASAP (Additional Skill Acquisition Programme), She-Drives, Hands-on Training in Office Automation Tools, Ethical Hacking, Graphic Designing and Fashion Designing.
Finishing School provides a platform where students are trained to become high quality professionals. Students are boosted with self-confidence to face interviews, group discussions and debates. Students learn basic etiquettes to be followed by a professional.
Confidence Building Training has been provided to equip students to face placement interviews and future obstacles in their life.
Students are finely polished by various sessions on Personality Development, Communication Skills and Enrichment lectures. It leads to the overall Personality Development of students.
Students are introduced to new concepts and they develop academic and professional research skills by doing case studies, research and projects.
Students-Organized Conferences/Techno-cultural Fests and Student Union Activities offer engaging experiences to inculcate leadership and organizational skills.
Dimension 2: Service Learning
  Students of St. Thomas College go through experiential education through community engagement. In the process, students link personal and social development with academic and cognitive development. It helps students in moulding responsible citizens with empathy to work towards social justice.
Engaging students in Palliative Care resulted in inculcating the spirit of care and a positive effect on the attitude of students. The strategy was to give sensitisation classes to the students and basic Training in palliative care followed by visiting patients. The initiative was realized in collaboration with Alpha Palliative Care Society.
The College organized Hair Donation Drive in which 41 Girl Students were Self-motivated to donate Hair to cancer patients undergoing chemotherapy. Hundreds of Students voluntarily donate Blood every year.
Through the initiatives of Sahapadikkoru Veedu and Abhayam project, Students were instrumental and passionate in the construction of nine houses, with one or two every year, for their deserving classmates. Through these initiatives students develop compassion, social justice, equality and ultimately Students learn to be altruistic.
During the Covid 19 pandemic, Students constituted Covid Combat (COCO) Warriors by organising vaccination drives, manufacturing and distributing sanitisers. Students exhibited their sense of civic responsibility through voluntary relief-rescue work during floods in Kerala, as evident as outcome of the service learning.
Students involved in community development activities in villages, Visit to Social Welfare Centres, Cleaning drives and distributing free meals and clothing. Through these Student-led initiatives, Students learn about the harsh realities of life and develop social skills and become responsible.
Dimension 3: Eco-centric Learning
Eco-centric Learning at St. Thomas College has gone beyond classroom, and has evolved through exploration of nature and engaging with the soil. Environmental activities beyond campus enable students to interact with the environment in order to adapt and learn.
Students developed basic agricultural skills through cultivation and harvesting of vegetables and crops in the campus under the auspices of NSS, Nature Club, Adventure/ Energy/ Environment Club and Botany department. Thus, Students learnt to relate to the vast majority of agrarian population in India.
On World Environment Day, more than 900 students voluntarily planted saplings at their home premises and sent geotagged photos.
In connection with Gandhi Jayanthi, more than 1000 students indulged in cleaning drives at their premises and roads and sent geotagged photos.
By planting about 125 Kulavetty saplings (endangered species) in villages and panchayats, students get more connected to the environment.
Dimension 4: Innovative Learning
           Entrepreneurship Development Club, Innovation Cell, IEDC, Exhibitions and Start-ups in the college are platforms to ignite the innovative skills of students. Through innovation, students not only exhibit their creative ideas, but also learn to further their innovative skills.
During the annual Innovation Festival organized by the Innovation Cell, hundreds of innovative ideas are evolved. During the Festival Fair, handicrafts, cakes, bags, stars and products-out-of-waste produced by students are sold.
Research papers, Creative and literary works of budding student writers of college are published as books, in journals and in college magazines.
Radio Mist – Radio Network Channel, a creative students initiative with awareness programmes, talk shows with legends, fun and games.
Short Film making – Students expressed their innovative learning by making creative Short Films.
Wall paintings on various themes by students, students-developed websites and robotic projects are examples of learning through innovation.

The following are the indicators of learning outcomes of Innovative Learning taking place in the campus:

In the Reboot Kerala Hackathon 2020 by the Kerala State Higher Education Department, seven teams from the college were shortlisted based on the merit of their ideas. St. Thomas College bagged the second prize for developing a learning platform for the visually impaired students.
Students won prizes in Ideathon organized nationally.
Students won Yuva Mastermind Award for the innovative organic toothbrush created in the state-level innovation contest.
The distinctiveness of Multifaceted Learning was evidenced as Students exhibited their competence when 266 students were placed in the current academic year and more than 40% students were admitted for higher studies, a good number of students qualifying national level qualifying examinations and 158 students bagging International/national laurels and the institution being ranked 4 Stars for innovation and high in NIRF India Ranking.