BEST PRACTICES
BEST PRACTICE I
1. TITLE OF THE PRACTICE:  

ST. THOMAS DIGI-CAMPUS
»  St. Thomas Digi-Campus is a Digitalized Governance framework that provides the foundational transparency and visibility to effectively manage the delivery of academic as well as administrative services to the stakeholders, primarily to the students.
2. OBJECTIVES OF THE PRACTICE
» To support and simplify governance of institution.
» To make administration of institution more transparent and enable effective interaction among the stakeholder, process, and institution.
» To make the office/administration accountable by creating a sense of responsibility into the DNA of the team, ensuring efficient governance.
» To guarantee timely and effective administration of services and information.
» To reduce costs.
» To reduce difficulties for stakeholders, provide immediate information and enable e-processing.
» To improve overall employee performance, empower team members with a sense of ownership.
3. THE CONTEXT
» Digital India, an ambitious initiative that was launched by honourable Prime Minister of India, Shri Narendra Modi on July 1, 2015, took the shape of a revolution over the years. This project has an impact on our college's digitalized systems, and the college performs its best on achieving digitalization in governance of administration as well as academics.
» As the number of programs and applications against sanctioned seats were increasing considerably over the years, manual processing of admission had to be replaced with a system-based processing.
» In a manual-processing environment, when multiple copies of the same data had to be maintained at different locations, data redundancy and data inconsistency had to be addressed and eliminated by introducing digitalized governance framework.
» When benchmarking and quality enhancement was being institutionalized, the documentation and data processing had to be a regular and consistent exercise which demanded a digitalized documentation paradigm.
4. THE PRACTICE
Digital Governance Framework at St. Thomas College is constituted by the following:
» STAMS (St. Thomas Academic Management System), the College ERP:  St. Thomas College (Autonomous), Thrissur, has put in place a large, cloud based educational ERP software, namely, STAMS in collaboration with Linways that consists of the following:
♦ Online admission Management with Student Enrolment and ID Card generation.
♦ Online Fee Remittance with Payment Gateway Integration.
♦ Student information system.
♦ Faculty & Staff Management.
♦ Course Management with Attendance Tracking and Class Scheduling.
» A completely automated Evaluation system:
♦ Online Evaluation System takes care of both Internal and External Evaluation, Question paper upload, manages valuation camp, handles Grade & Marksheet Generation, publication of results and issuing of mark sheets, certificates including TC. The system supports monitoring of students' performance and facilitates remedial actions.
♦ Conduct of Examinations: Notifications on examinations, student registration for examinations, Hall ticket generation and intimation on Hall-Seat arrangements are done online.
♦ QnSmart facilitates Online Question Bank Generation and automatic Question paper creation.
» E-Learning Management at St. Thomas College:
♦ Comprehensive implementation of MOODLE LMS was employed in teaching-learning with 100% Moodle literacy.
♦ Smart and ICT-enabled classrooms and seminar halls for learning delivery.
♦ College YouTube Channel hoisting more than 800 video lectures delivered by faculties.
» ExAT, a Digital Documentation System in support of NAAC Documentation and for Self-Appraisal generation in the college is decisive in accreditation/ranking processes and is a qualitative online monitoring system to assess student-faculty-department performance.
» Online Event Management system is employed in the college for the conduct of Fine Arts Festival, Sports Meet and similar events.
» Financial Accounting automated.
» Automated Library Management System: Library is completely digitalized with access controls, automated footfall tracking, computerised search/issuing/return of books (KOHA), online access of library resources and with digital resources like e-Journals.
» Security through Firewall: The institution is secured with Sophos Firewall that denies / allows network data, thus securing and protecting the organizational data and network.
» Online Communications
♦ Bulk SMS, Email, and notifications through social media, etc.
♦ Digital Notice Boards installed at various locations in the campus
♦ Notifications to stakeholders digitally through College Website and LMS.
» e-Grants, SPARK, online payroll management system; E-Tendering are online tools employed by St. Thomas College to bring in transparency efficiency.
» Feedbacks and Grievances from stakeholders are captured online through college ERP.
With a 70 MBPS bandwidth distributed networking infrastructure installed in the campus, the Digital Governance Framework of St. Thomas College has accelerated and enhanced the performance and governance of the institution.
5. EVIDENCE OF SUCCESS
» Faster, transparent and user-friendly Admission Process: Rank list of selected candidates prepared within 2 Days after the last date for Application. Demand ratio increased by 21%. Students from all Districts applied increasing Regional Diversity.
» The conduct of examinations and all processes of evaluations including results-declaration gained momentum with Digitalization of Evaluations; Average Number of Days for Declaration of Results is only 18.6 Days.
» Digitalized Documentation abetted the institution to be one among best 100 colleges in India in NIRF Ranking for 4 consecutive years. 
» Unhindered Academic Endeavours: Digital Framework enabled the institution to overcome the constraints/delay in academics and evaluations despite unprecedented natural calamities like Kerala Floods in 2018 and 2019 and pandemic in succeeding years.
» Digital Noticeboards, online notifications and communications have caused to cease long queues to avail various student services from office, including hall-seat arrangements for examinations.
» Compliance to e-tendering and e-procurement has resulted in more vendors participating in tendering benefitting the institution to purchase with cost-effectiveness and quality. Number of vendors increased by 25% with e-Tendering.
» More transparency and efficiency experienced in financial transactions, evaluation system and monitoring mechanism resulting in less-paper office
6. PROBLEM ENCOUNTERED
» Hardware and software upgradation
♦ The important challenges were development and upgradation of ERP software and installation of new computer servers and annexed infrastructure for the implementation of the digitalized governance framework. Adequate and competent technical staff had to be in place.
» Quality and Internet Issues
♦ Factors like transfer technology, varied location and the number of people using the system defined the speed and quality of internet connection. The difficulty of WiFi penetrating the thick walls of a 100-years old college had to be overcome.
» Security, Threat and Privacy Breach
♦ Since the information systems of St. Thomas College are accessible online, it had to be protected from different types of information security threats including hacking by incorporating firewalls and anti-virus software.
» Change Management
♦ One of important challenges was to deal with the transition to new processes or technologies in addressing the human resistance and helping people to adapt to change through training and communications.
7. NOTES
» It is to be mentioned that the College ERP and online tool ExAT for digital documentation management was developed by Linways Technologies Limited with the consultancy from St. Thomas College (Autonomous), Thrissur. These systems, thereafter, have been installed in several campuses.
BEST PRACTICE II
  1. TITLE OF THE PRACTICE:

SANTHOME WE-CARE INITIATIVE
»  Santhome We-Care initiative is aimed at sensitizing students to transform Society, to fight for Social Justice and to Restore Environment and to relieve people's suffering, and improve lives and communities. Besides, the initiative's objective is to develop students as responsible citizens with social outlook and compassion. Santhome We-Care encompasses socially-sensitive, environment-friendly and students-driven endeavours like Housing for the poor, Village upliftment, Tribal empowerment, Care for the sick, Women Empowerment, Rescue & Relief, Children care, Swachh Bharath initiatives, Socio-Economic Surveys, Environment Sensitive initiatives, and Care for the marginalized. Santhome We-Care initiative is a humble effort of the institution to respond address the UN Sustainable Development Goals (SDGs) to achieve a better and more sustainable future for all.
2. OBJECTIVES OF THE PRACTICE
»  To expose students to the real-life situations and train them to imbibe social values.
»  To develop humanitarian qualities and compassion towards environment and fellow beings.
»  To mould socially responsible citizens who work for the progress of the nation.
»  To promote sustainable development and eco-friendly campus.
»  To launch need-based activities and projects to involve student participation in social issues.
»  To make students aware on organic farming techniques and organise cultivation programmes.
»  To conscientize people about various health issues and lifestyle diseases.
»  To Impart Social and Environmental Sensitivity in Students through need-based activities.
3. CONTEXT OF THE PROGRAMME
»  Increasing consumeristic trends and urbanization are posing the challenges of inequalities, social segregation, neglect of the poor and environmental degradation. It leaves the growing generation self-centred and insensitive. The merging of community development and youth development has been the strategy of St. Thomas College since community engagement facilitated personal as well as social development of students engaged in We-Care initiative.
»  Community participation helps youth become empathetic citizens who could potentially continue similar work when they become adults. Additionally, youth who give back to their communities develop leadership skills, learn the importance of helping, and gain work experience.
»  The initiative is institution's commitment to share the Sustainable Development Goals of UN.
»  St. Thomas college, with its vision of 'Transforming the Youth through Holistic Education towards an Enlightened Society', aims at moulding responsible citizens sensitive to the concerns of society and environment, and We-Care is an initiative to realize the vision.
4. THE PRACTICE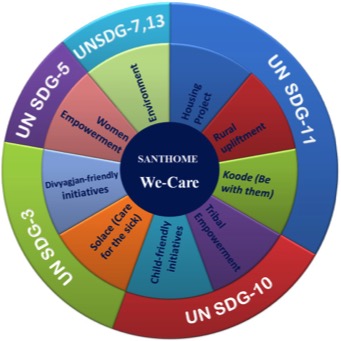 SANTHOME WE- CARE :
»  Housing project:
♦ Through Sahapadikkoru veedu, Abhayam and Jubilee Housing Project, the students and staff collected a sum of Rupees 31 Lakhs and constructed 9 houses for the economically disadvantaged students of college during the assessment period
»  Rural upliftment:
♦ 15 Villages engaged with empowerment programmes through Unnat Bharat Abhiyan scheme, Bhumika-2016, Karuthal-2017, Aksharaprayan-2018 and Thirayum Theeravum-2019 and Samagra
♦ Socio-Economic Survey conducted among 1425 families
♦ ASER Survey conducted for 3417 children, 1223 household in 49 villages in 3 years.
♦ 90 Destitute Children trained in Waste management and Organic farming
♦ 320 Parents sensitized on Parenting and Micro-financial management
♦ Flood Mapping conducted at Annamanada Panchayath
♦ Food Kit distributed to 125 families in flood-hit areas
»  Tribal Empowerment:
♦ 300 families of Kurumba Adivasi Tribe, Gottiyarkandy, Attapady were engaged with Health Check-up, Health-Card Preparation and Literacy Drive
♦ 150 Children in Echippara Tribal Village supported with Computer Classes, Children's Camp and Medical Camp
♦ Awareness classes on Childcare and Saving Habits organized for tribal mothers
»  Solace-We-Care for the Sick:
♦ 'Santhwana', Students' palliative care for the cancer-kidney patients and incapacitated people;
♦ Keshaprayan: 41 Girl Students donated Hair to cancer patients undergoing chemotherapy.
♦ Blood donation drives through Bleed-the-Blood and one-day:one-donor scheme.
♦ Covid-Combat initiatives.
♦ 500 Litres of Sanitizer manufactured by College to fight Covid.
♦ Police Officers, Inmates of Central Jail and Women's Jail, trained by College to manufacture 6500 Litres of Sanitizer.
»  Women Empowerment:
♦ Training for Kudambashree members to make LED lights;
♦ Smart Mother– Computer Literacy Program for Mothers;
♦ She Drives – Free driving class for girl-students;
♦ Awareness classes on Menstrual hygiene and Women empowerment;
♦ Self-Defence Training for Girls;
♦ Celebration of International Women's Day, breast-feeding week etc.
»  Child-Friendly Initiatives:
♦ Free tuition for Orphanage by students with 150 classes per year.
♦ Annual children camps for 280 children
♦ 325 Children supported through Touch-not-my-Child and No-child-alone campaigns
♦ Awareness programs on POCSO Act and child-friendly local governance
»  Divyangjan-friendly initiatives:
♦ Divyangjan-friendly Policy
♦ Awareness programmes for sensitising the stakeholders and society
♦ Visits to social welfare centres like old-age homes and rehabilitation centres for the Divyangjan
♦ Observance of Days of importance for Divyangjan with the community
»  Koode (Be with them):
♦ Response to natural calamities through relief activities during
♦ Okhi Cyclone in 2017
♦ Kerala Floods 2018 and 2019
♦ Covid Pandemic
»  Environment Initiatives:
♦ Cultivation and Harvest of Organic vegetables and crops
♦ Conservation of endangered Kulavetty trees
♦ Saplings distribution
♦ Ban of Single-use plastic in the campus
♦ Solar energy and Energy Saving Initiatives
♦ Urjjakiran drive for promoting energy conservation practices
♦ Swachh Bharath drives at public places and beautifying public places
♦ Seminars, Street plays, Radio Mist and Socio Podcast for Awareness on Swachh Bharath
5. EVIDENCE OF SUCCESS
» 6 Houses were fully constructed and of 3 Houses partially completed exclusively through the efforts and contributions of Students and Faculty of St. Thomas College.
» St. Thomas College was awarded Certificate of Appreciation by the District Collector, for the commendable volunteering relief works done by the college during Kerala Floods.
» St. Thomas College was awarded by the Government of Kerala for the Energy Promotion Activities of 'Urjjakiran' by the College.
» St. Thomas College was awarded by the Echippara Tribal Panchayath for the sustainable development activities undertaken by the college in Echippara Tribal Panchayath.
» 1250 Tree Saplings planted by Students. Conservation of endangered trees by planting 125 saplings (Kulavetti) successfully completed in 5 Panchayaths.
» St. Thomas College and Faculties were recognized and awarded by the Local Governance bodies for the environment promotion activities and planting and protection of Kulavetty plants in the Panchayaths.
» 100% of lighting in the institution converted LED-based.
6. PROBLEMS ENCOUNTERED AND RESOURCES REQUIRED
»  Fitting the programme into the tight academic schedule of the semester system is a challenge.
»  Mobilisation of Financial Resources.
»  Coordination with Government departments, local bodies and NGOs.
»  Constraints to reach out during pandemic due to the restrictions.
7. NOTES
»  We-Care initiative is a model that can be replicated by other institutions. The institution has made community service/engagement mandatory for certain number of hours for each student for award of degree. The initiative has facilitated incorporation of social sensitiveness and leadership skills among students. Students, when properly oriented, are found to be passionate to engage in community services. Students became ambassadors of social change.