DEPARTMENT OF MEDIA STUDIES
OUR DEPARTMENTS
NDSF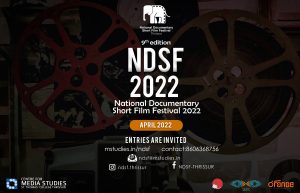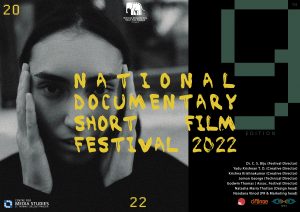 National Documentary Short Film Festival (NDSF) 2022
mstudies.in/ndsf.in
National Documentary Short Film Festival (NDSF) has a unique perspective and understanding of the role of documentaries and short films as alternative visual formats and media. The challenges of radicalizing visual cultural practices politically are one of the thrust of the prestigious National Documentary Short Film Festival. In all realms of conceptualization, production and transmission; documentaries and short films addresses new challenges of technology, aesthetics and visualization.
The National Documentary Short Film Festival invites entries in both categories  for its  2022 edition. The festival will be conducted April, 2022 in Thrissur, Kerala, India.
Rules  and Regulations
Films completed between January 2018 and March 2022
will only be accepted.
Films should have subtitles in English.
Films should not exceed the duration of 40 minutes.
The films should be submitted in .mp4/ .mkv/ .avi file format.
Registration fee for each entry is `
In the event of any legal dispute, the court of appeal is Thrissur, Kerala.
The decision of the Jury will be final.
Last date of submission is March 31, 2022
Submission Procedure
1)The registration can be carried out through the NDSF 2022 page in the website
2)mstudies.in/ndsf.in website with the required credentials to access the registration procedure.
3) Make the payment of registration ONLINE. Registration Fee: Three Hundred and fifty  Rupees (Rs.350).
4) Enter the URL of the film in the designated column (URL submission).
URL submission guidelines
Submissions are only permitted through social platforms such as YouTube,  Vimeo and cloud platforms such as Google Drive , iCloud etc.(When you use a cloud platform or a social media platform, the participants are supposed to grant the organisers the permission to access their submissions.)
Contact Us:
Mobile:8606368756
The Directorate,
National Documentary Short Film Festival,Centre for Media Studies,Jubilee Block,                         St.Thomas College,
College Road,Thrissur,              Kerala – 680001