DEPARTMENT OF ZOOLOGY
OUR DEPARTMENTS
Dr. Joyce Jose, M.Sc., B.Ed., Ph.D.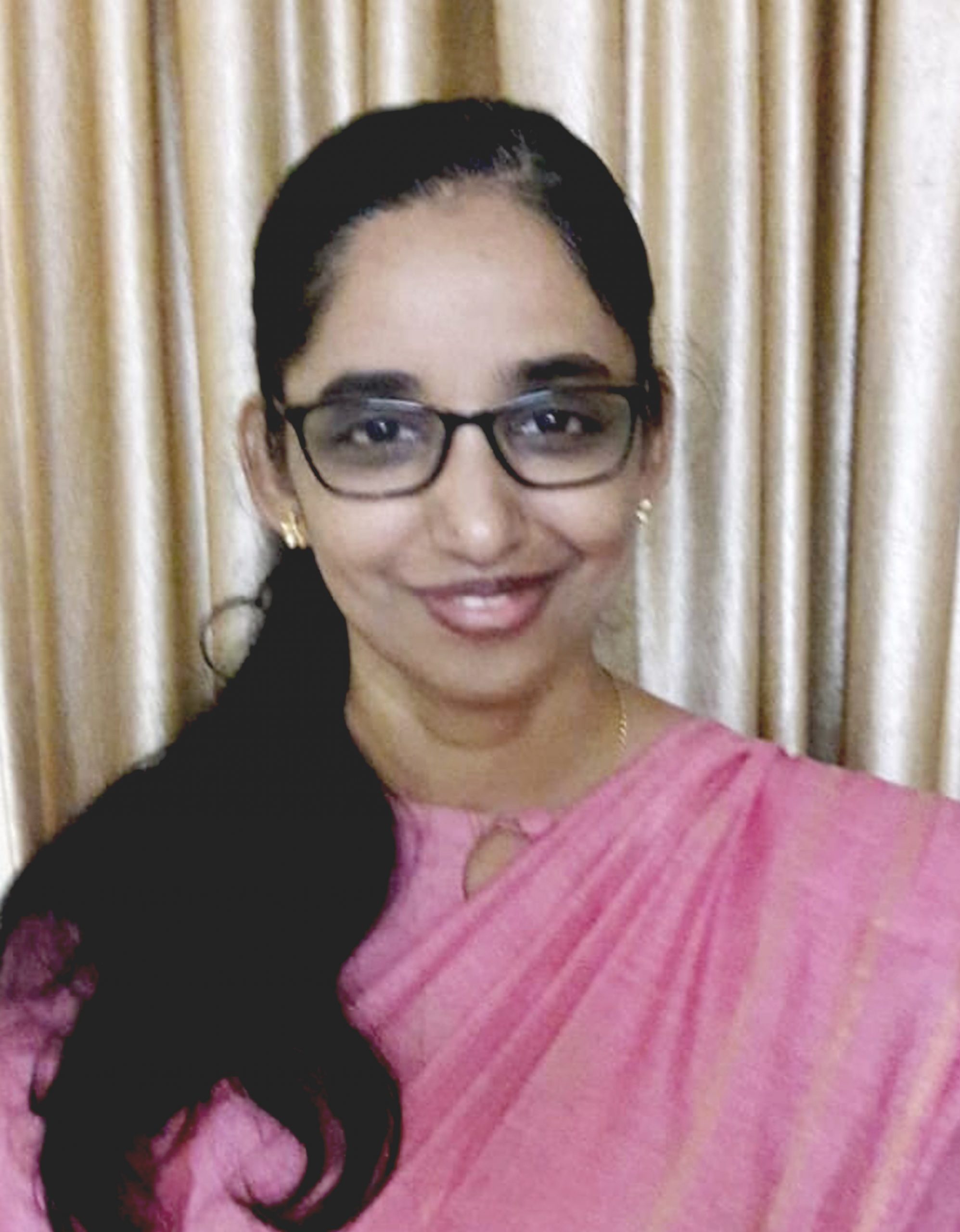 Address:
Thekkudan House, Thrissur
Email
Education:
M. Sc Zoology, Mahatma Gandhi University, Kottayam
B.Ed (Natural Science), Mahatma Gandhi University, Kottayam
Ph. D , Forest Research Institute (DU), Dehradun ( Centre of Study: KFRI, Department: Wildlife )
Honors Received:
C. CHANDRASEKARAN MEMORIAL GOLD MEDAL AND ENDOWMENT AWARD 2010 For Excellent Research in Forest Management and Conservation in Kerala by KFRI &KSCSTE.
Best paper award -Joyce Jose, Ramachandran, K.K, Roby T.J. and Nair P.V. (2011). Species Abundance Distributions as a Diagnostic Tool for Ecological Studies- a Case Study. In the Proceedings of National Seminar on Emerging Trends in Biodiversity.
Research Interests:
Forest and Wetland Ecology, Biodiversity Assessment and Conservation, Ecological Statistics
Selected Publications: –
Usha AU, Thomas Sobczyk, Roby TJ, Joyce Jose. 2022.  Eumasia thomasii sp. nov. a new species of the subfamily Eumasiinae (Lepidoptera: Psychidae) from India. Zootaxa.  5200 (3) 232–246
Usha AU, Thomas Sobczyk, Roby TJ, Joyce Jose. 2022.  Threat assessment of Manatha albipes Moore (Lepidoptera: Psychidae) from Kerala, India using GIS with comments on its taxonomy, biology, distribution and host plants. International Journal of Tropical Insect Science. 42, 3133–3141 (2022). https://doi.org/10.1007/s42690-022-00858-8
Neethu MU and Joyce Jose. 2022. CNEMASPIS LITTORALIS (Coastal Day Gecko). DIET and FEEDING BEHAVIOR. Herpetological Review. 53. 320-321
Usha A U , Thomas Sobczyk, Roby  T J& Joyce Jose. 2022. Neotype designation, redescription, biology and distribution of Acanthopsyche alstoni Watt & Mann, 1903 (Lepidoptera: Psychidae) from India.  Zootaxa 5159 (1) 136–144
Anupriya A K, Owen Seeman, Joyce Jose (2022) Serendipitous discovery of mites in the eye cavity of Asota caricae Fabricius, 1775 (Lepidoptera: Erebidae), Journal of Natural Science Collections 10: 81 – 85, UK (ISSN No. 2053-1133)
Anila Krishnan, Francy K Kakkassery , Joyce Jose (2022) Feeding behaviour of pit building antlion Myrmeleon pseudohyalinus, Holzel 1972 (Neuroptera: Myrmeleontidae)in different mediums, instars and hunger levels , Entomon , 47, 34-40 , Association for Advancement of Entomology , 0377-9335
Usha, A.U. Joyce Jose, and T.J. Roby (2021) distribution mapping and host plant preferences of the bagworm Eumeta crameri Westwood 1854 from Kerala, India. JBNHS. 118. 141-147
Neethu MU, Joyce Jose and Roby T.J. 2021. New locality record of the slender day gecko Cnemaspis gracilis (Beddome, 1870) from Ernakulam district, Kerala India with behavioural observations. Herpetology Notes. 14. 823-826.
Roby T. J. Joyce Jose and Nair P V. 2018. Phytosociological analysis of Myristica swamp forests of Kulathupuzha, Kerala, India. Current science 114(8):1687-1696. (ISSN No. 0011-3891)
Subramanian Bhupathy, V. J. Jins, Santhanakrishnan Babu and Joyce Jose. 2016. Distribution and conservation status of the caenophidian snake, Xylophis captaini Gower & Winkler, 2007 in the Western Ghats, India. Current science., 110 (5): 908-912. (ISSN No. 0011-3891)
Joyce Jose, J. Roby, K. K. Ramachandran, P. V. Nair. 2015.The State of Myristica Swamp Forests in Southern Western Ghats, India – Butterfly Species Richness as an Indicator. Indian Forester.141 (10): 1056-1066. ISSN No. 0019-4816 (Print), ISSN No. 2321-094X (Online)
Joyce Jose, Roby T.J., Ramachandran, K.K. and Nair P.V. (2014). Species abundance distribution of selected communities in the Myristica swamp forest of southern Kerala. Current science. 107(3): 447-453. (ISSN No. 0011-3891)
Roby T.J., Joyce Jose and Nair P.V. (2014). Checklist of flora of Myristica Swamps – A critically endangered fresh water ecosystem of Southern Western Ghats of Kerala, India. Indian Forester.140 (6): 608-616. ISSN No. 0019-4816 (Print), ISSN No. 2321-094X (Online)