CRIMINOLOGY AND POLICE SCIENCE
OUR DEPARTMENTS
Dr. Swetha Thomas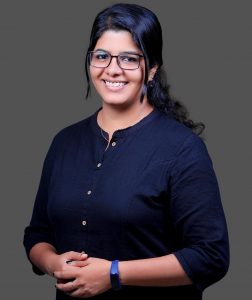 Address:
Perumbral House, Kallubane, Virajpet, Kodagu, Karnataka
Email:
Swetha.thomasp@gmail.com
Education
Doctor of Philosophy (Development Studies-Criminology) from M.G. University (Impact of Training on the Attitude of Police Recruits Towards Crime).
Masters in Criminology from National Institute of Criminology and Forensic Science, Ministry of Home Affairs, Government of India, New Delhi.
Bachelor in Psychology from Christ (Deemed to be University), Bangalore.
Areas of Interest:
Research in police science and administration, Crime Investigations, Corporate Investigations, Human Rights, Security Management.
Previous Work Experiences:
GSOC Specialist at ServiceNow (Securitas)- Hyderabad
Intern at Kerala Police Academy
Former Vice President- Indian Criminology & Forensic Science Association
Publications:
Thomas, S. (2016). Acceptance of Rape Myth Among Police Trainees. IOSR Journal of Humanities & Social Sciences, 21(4), pg 10- 13.
Seminars and Conferences:
36th All India Criminology Conference in 2013 at National Law University, Delhi.
UGC sponsored National Workshop on Research Methodology for Academic Research in 2014 at SGTDS, M.G. University, Kottayam.
UGC sponsored national seminar on Crime Against Women- A Growing Menace to Society in 2015 at BCM, Kottayam (Paper Presented: Crime against Women in Kerala).
National Seminar cum Workshop on Cyber Security 'CYSEC 3' in 2017 conducted by Department of Computer Science, School of Technology and Applied Sciences, M.G. University, Kottayam.
National Seminar on Loco Motor Disabilities in 2017 at School of Behavioural Sciences, M.G. University, Kottayam (Paper Presented: Legal lacunae with respect to persons with disabilities).
Kerala Studies Conference in 2019 at SGTDS, M.G. University, Kottayam
Online 'Moodle' Training Workshop-Advanced in 2021 organized by IQAC, St Thomas College (Autonomous), Thrissur.