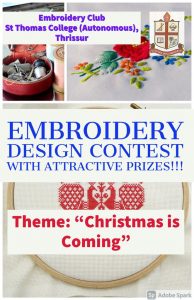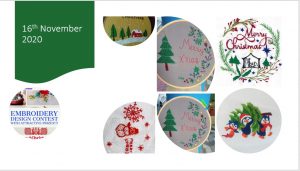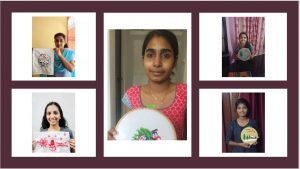 Embroidery Design Contest – With attractive Prizes!!
The Theme: "Christmas is coming!"
 This means it can be anything that has to do with Christmas that evokes ideas of
Christmas – so, for example, geometric-type patterns, floral patterns, scenery,
etc.
 Submit an original embroidered design, the dimensions of which may be no larger
than 8×8 inches.
 Your design must be submitted by November 30th 2020, via google form
https://forms.glrge/rar2ymrpmMN7fXWn9
 If there is any query regarding competition email to eclubstc@gmail.com.
As per the decision taken by the meeting held on 16th November 2020, Embroidery club of St. Thomas College (Autonomous), Thrissur organised an online competition from 20th November 2020 to 30th November 2020.
First Prize : Niveda K K of MSc Botany
Second Prize, Sneha Joju of BBA, IV Semester
Third Prize, Jennet P J of B Sc Chemistry, I semester.
Share This Story, Choose Your Platform!