DEPARTMENT OF PSYCHOLOGY
OUR DEPARTMENTS
Dr REETU SARA VARGHESE, M.Sc.,  Ph.D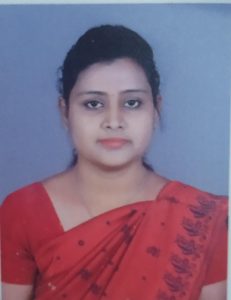 E-mail: reetusaravarghese1995@gmail.com
QUALIFICATION
Ph. D (Regular Candidate) Bharathiar University 2023
M.Sc Psychology, Bharathiar University 2018
B.Sc Psychology, Calicut University 2016
Plus, TwoKerala State Board 2013
  Participation
• Participated in National Baseball Championship on 2009.
• Honoured Rajyapuraskar Guide Award.
• Participated in State Softball Championship on 2005- 2010
• Actively participated in National Service Scheme (NSS) from the year of 2013-2016.
• Endowment prize for 1st Rank holder in M.Sc. Psychology (2016-2018).
• Assisted for NAAC work in the Department.
• Assisted CE office for conducting semester exams.
• Conducted classes for PG students (Psychology) of Government Arts College, Coimbatore.
Research Orientation
• Emotional Competence and Life Satisfaction among Working and Non- working Women.
• Job Satisfaction among School and College Teachers.
• Thesis submitted to the university (Management of Emotional and Behavioural problems and Enhancement of Self-esteem among Orphaned Adolescents).
WORKSHOPS ATTENTED AND PRESENTED
• Regional seminar on Positive Psychology and Hypnotherapy.
• National conference on Youth- A Catalyst for Social Transformation.
• A workshop on Log out a Gate Way to Quit your Addictions.
• Workshop on Cognitive Behaviour Therapy.
• National conference on Applied Health Psychology: Trends and Challenges.
• International pre-conference workshop in Advanced Training in Solution Focused Brief Therapy.
• Presented a paper on National Seminar conducted on the basis of Smart Cities Marching Towards Women Empowerment, Organized by Department of Sociology, Periyar University.
• Published a paper in Paripex- Indian Journal of Research on Anxiety among male and female college students in Covid-19 Pandemic situation (Volume-10, Issue-05, DOI- 10.36106/Paripex and Year of Publication- May 2021).
• Paper published in IJCR- International Journal of Current Research on Emotional Regulation Difficulty male and female orphans (Volume-4, Issue-3 and Year of Publication- May 2022).
• Handled classes for IIIrd year B.Sc. Psychology Students from February to April (2022), on the topic "Industrial and Organizational Psychology" at PSGR Krishnammal College for Women (Accredited with A++ Grade by NAAC; Ranked 6th in NIRF 2021).
• Adjunct faculty from December 2022 to April 2023 at PSGR Krishnammal College for Women (Accredited with A++ Grade by NAAC; Ranked 4th in NIRF 2023).