DEPARTMENT OF LANGUAGES
OUR DEPARTMENTS
Ms. P. S. Alisha, M.A., B.Ed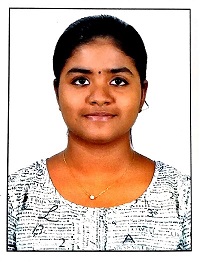 Address
Poovathur House, Samanya Nagar, Kannara P. O.,
Thrissur, PIN – 680652
EMAIL –ID:
psalishailearn95@gmail.com
ACADEMIC QUALIFICATIONS:
BEd English ( I. A. S. E, Thrissur)
M. A. English ( St. Thomas college Autonomous, Thrissur )
B. A. English and History Doublemain ( St. Thomas college Autonomous, Thrissur )
Research Interests:
Post – humanism
Animal narratives
Awards / Success:
NTA UGC NET 2019
Kerala SET 2022
CTET 2022
Seminars / conferences attended
National Webinar, Literary Currents of Today and Tomorrow, Department of English , St. Aloysius' College, Edathua, 14-07-2020
National Webinar on Pandemics in Literature: Past and Present, Deapartment of English , St. Antony's College, Peruvanthanam, 16-07-2020.
Webinar, Literature at the Edge of Print Technology, Department of Functional English ,  JDT Islam College of Arts and Science, 23-7-2020, Calicut.
National Webinar, Authority, Agency and the Pandemic,Department of English, Al-Ameen College, 25-7-2020, Edathala.
Webinar, Gender Bias, Stereotyping, and Gender Equality,Departments of Poilitical Science and English, Jamia Milia Islamia, 27-7-2020.
 Seminar Presentation
 Alisha P. S., " Resistance Vs Power : King Lear and his Crew", An International Conference on Re- Interpreting Shakespeare, PG and Research Department of English, St. Joseph's College( Autonomous ),2016, Tiruchirappalli.
 Alisha P. S., "Homeland and Exile: A Study on Selected Poems of Margaret Atwood" ,Multidisciplinary National Seminar on Canadian Kaleidoscope : A Fascinating Perspective for the Prospective Emigrant, Department of English ,M.S.M. College, Kayamkulam & UGC Area Study Centre for Canadian Studies, 8-12-2017.
 Alisha P.S., " Aspects of Identity Crisis in Yasmina Khadra's 'The Attack'", International Seminaron The Diasporic, Refugee and Slave Narratives, Department of Malayalam and Kerala Studies, University of Calicut, 4-2-2020, Malappuram.
 Alisha P.S., "Colour Perspective in Doris Lessing's " The Golden Notebook", National Seminar on Colour, Department of English, Thrissur, 13-12-2017.
Papers Published
 Alisha P.S., Ekphrastic and Intertextual Analysis of The Palace of Illusions, Journal, Journal of Gujarat Research Society, National , 506, November 2019.