THEME :  YOUTH EMPOWERMENT –personality development

Participants  all students from V1th semester UG , 11nd &1V th PG

Date 20/02/2019

Time :2.30pm-4.30pm

Presidential Address Dr.Ignatious Antony

Principal St Thomas 'College  (Autonomous) Thrissur

Chief Guest  Dr Mary Antony , Convener,

Young Womens Leadership Conclave

Professional Trainers Club Thrissur.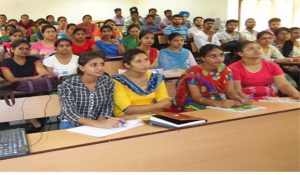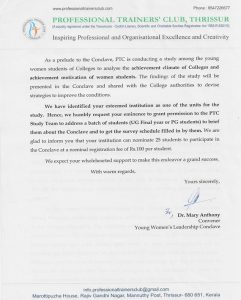 Gender Champion Programme St Thomas 'College (Autonomous) organised a Women Leadership Training Programme on    on  20/02/2019 at Professional Trainers Club Hall, Thrissur at 2 .30 p.m. for the VIth ,U G II nd &IV th  PG Semester  students. The programme was presided by DrIgnatious Antony   Principal, St Thomas 'College (Autonomous. The chief guest  Dr Mary Antony  ,Convener, Young Womens Leadership Conclave Major points were Professional Trainers Club Thrissur.
Our programmes aims  develop leaders who can cross boundaries – be they boundaries of sector, specialism, generations, geographies, backgrounds or beliefs – we develop leaders who can thrive in all situations.
Revolutionizing careers. Transforming the corporate landscape.
This four-part, strategically paced program, emphasizes practical learning and focuses on talent development. High-potential women executives will be equipped with the knowledge and tools needed to elevate themselves to the C-suite and beyond.
In a supportive and highly collaborative atmosphere, an impressive roster of top Kellogg faculty and corporate experts guide you through a rigorous program of intensive classroom instruction, individual career appraisals, personal coaching, case studies and simulations. Every element of the program is focused on strengthening and broadening your leadership talents and delivering positive results for your organization.
Four Sessions, One Goal: Revolutionize Your Career
The program's structure — four three-day sessions spread over 12 months — allows you the time and opportunity to learn and test new ideas collaboratively, receive real-time constructive feedback from faculty and peers and build relationships that will last a lifetime. During the program, you will:
Gain the insights and skills you need to move purposefully toward the highest levels of corporate leadership
Expand your understanding of leadership with research-based insights from world-renowned Kellogg faculty
Prepare to take on the challenges that every senior leader must face with practical guidance from seasoned corporate leaders
Share This Story, Choose Your Platform!