A one day workshop on Python Programming with Raspberry Piwas held at Dept. of Electronics, ST. Thomas' College, Thrissur on Thursday 29th August 2019. The workshop was a specialization course in Pythonprogramming and interfacing using Raspberry Pi, which enabled the participants to acquire idea about all syntax and they gained knowledge to design the algorithm. Also they are capable to design their own applications using python like game designing, animations and as embedded application development. By the end of the day students were capable of shaping a prototype of their own.
The concepts covered in the workshop were:
Introduction to python programming, Raspberry Pi boardbasic concepts and also written different python programs in the morning section.
Interfacing with LED and different sensors like temperature and humidity sensor (DHT11) conducted in the evening section..
                The session started at 9.30am with the inauguration by Executive Manager, Rev. Fr. Varghese Kuthur with Presidential address by the Vice Principal Dr. Thomas Paul Katookkaran
The first session of the workshopwas  started at 10.00 am up to 12.30pm and followed by lunch break from 12.30pm to 1.30 pm. The second session started from 1.30pm to 4.00 pm followed by valedictory function and the certificates for all participants were distributed in the function. The resource persons from C SEED (Centre for Skill Enhancement and Employability Development) taken classes and provide technical support for the workshop. A Total of 41 studentsfrom 3 colleges and teachers participated in the workshop.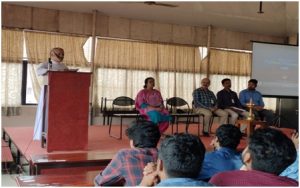 Share This Story, Choose Your Platform!