St. Thomas College (Autonomous), Thrissur received a token of appreciation on 27 February 2021 from Department of Agriculture, Govt. of Kerala, for organising VAIGA AGRI HACK 2021.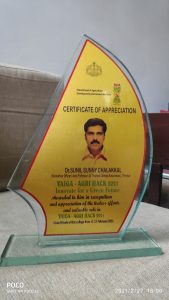 Dr. Sunil Sunny's valuable service was appreciated and he was honoured by the Agriculture Department, Govt of Kerala for the smooth conduct of VAIGA AGRI HACK 2021 during Feb 10 -14, as a Hackathon officer.
Share This Story, Choose Your Platform!