DEPARTMENT OF PHYSICS
OUR DEPARTMENTS
Mr.Joby Sebastian M.Sc., B.Ed.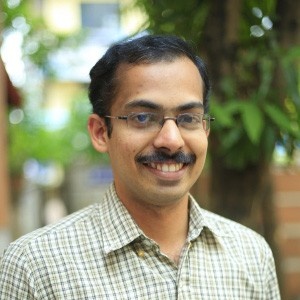 Address:
Aduppukallumkal (H) , Melampara (P.O)
Melampara – 686578. , Kottayam (Dist)
Email
jobysebastian10@gmail.com
jobysebastian@stthomas.ac.in
Education
M. Sc Physics (Mahatma Gandhi University Kottayam)
B.Ed. Physical Science (Mahatma Gandhi University Kottayam)
NET, JRF
Experiences
Guest Lecturer in Physics – Deva Matha College, Kuravilangad
Book Published:
'Thermal and Statistical Physics', Publication Division, St. Thomas' College (Autonomous), Thrissur, ISBN: 978-81-935819-6-4
Patent Filed and Published:
Designing a Robot with dielectric material to work in high voltage electric environment.
Membership in Academic Bodies
Member of American Chemical Society (ACS)
Life Member of Indian Association of Physics Teachers (IAPT)
Life Member of Academy of Physics Teachers, Kerala (APT)
Member of 'Teachers of Physics in Calicut University' (TOPIC)
Member of Association of North America Higher Education International (ANAHEI)
Life Member of MathTech Thinking Foundation (MTTF)
Member of National Institute for Technical Training & Skill Development (NITTSD)
Member of 'Board of Studies of Physics and Electronics', St. Thomas College (Autonomous), Thrissur
Member of Fostering Linkages in Academic Innovation and Research (FLAIR), Department of Higher Education, Govt. of Kerala
Associate Member of International Association of Innovation Professionals (IAOIP)
Member of 'Association for the International Development of Academic and Scientific Collaboration' (AIDASCO)
Achievements
Member of United State Institute of Peace (USIP), Washington, D.C., United States.
Approved 'UN Volunteer'
Participated in various Health Emergencies Programmes conducted by WHO
Member of UNICEF 'Global Education Cluster Core Coordination' Team.
Completed 7 Certificate Courses in Physics from IIT Kanpur
Completed 35 International Certificate Courses from The Open University, UK
Thrissur District Coordinator of Scholar Support Program (SSP) – one of the New Initiative programme of Department of Collegiate Education, Higher Education Department, Govt. of Kerala
Member of 'Smart Energy Programme' of Energy Management Centre (emc), Department of Power, Govt. of Kerala.
'Innovation Ambassador' by Innovation Cell of Central Ministry of Education, Govt. of India.
Participated the 'Earth School' Programme by UNEP.
Training Attended
Global Education Cluster Core Coordination Training by UNICEF
Innovation Ambassador Training conducted by MoE's Innovation Cell & AICTE, New Delhi
UGC Sponsored Orientation Programme at HRDC, Kumaun University, Nainital, Uttarakhand
Faculty Development Program by Mahatma Gandhi National Council of Rural Education, MHRD, Govt. of India, Hyderabad
Degree College Teachers Training Programme in Physics (21 days residential program equivalent to UGC refresher course, approved by MHRD, Govt. of India) at Centre of Excellence in Science and Mathematics Education, IISc, Challakere Campus at Kudapura, Karnataka.
Invited Talks
Seminar: 'A Journey through the world of Nanotechnology' at St. Stephen's College, Uzhavoor
 'Orientation Programme & Training for Higher Level Competitive Examinations' at St. Thomas' College (Autonomous), Thrissur
Golden Jubilee Memorial Lecture Series, Lecture-2 at St. Stephen's College, Uzhavoor
One day Seminar: 'Scope of Nano Science and Potential Impact of Nanotechnology' at MK Raghavan Memorial SNDP Yogam Arts & Science College, Pulpally, Wayanad