DEPARTMENT OF PHYSICAL EDUCATION
OUR DEPARTMENTS
Dr. C. T. Toy M.P.Ed.,M.Phil.,Ph.D., PGDSM, PGDY.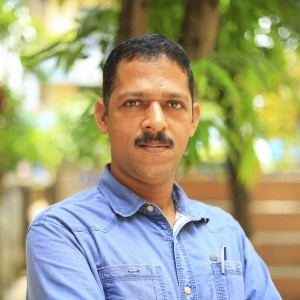 Address:
Cheruvathoor House , Opp. V.V.S H.S.,
Mannuthy P. O. , Thrissur-680651
Email
Education
 MPEd (Madras University),
M.Phil.(Annamalai University)
PGDIP (Yoga)
PGDIP (Sports Management)
PhD (Annamalai University)
PhD Thesis
Effect of Brisk Walking Programme on Coronary Heart Disease Risk Factors Among Middle Aged Over Weight Men.  (this topic related with the field of Exercise Physiology)
Positions held
Assistant Professor, St. Thomas College, Thrissur
Lecturer in Physical Education at Markaz Training college,Valanchery – June 1998 to November 2008.
Lecturer in Physical Education at St.Peter's College, Kolenchery – November 2008 to November 2010
Research Interests
Soccer, Exercise Physiology
Awards/Honors/Memberships
Represented Annamalai University in Foot ball ( 1997-1998)
Represented Madras University in Cycling ( 1995- 1996)
Member of the winning Team ( Christ College, Irinjalakuda ) in the All Kerala
Inter Collegiate Football Championship held at Thrissur ( 1994- 1995)
Member of the Winning Team ( Christ college, Irinjalakuda) in the Calicut
University Inter – Collegiate Fooball Championship ( 1994-1995).
Won prizes  in Calicut University  inter – Collegiate Arts Festival for percussion string type ( western) (1994-1995)
Executive Member in Thrissur District Athletic Association
Organization of Tournaments
All India and South – West zone inter university Basketball championship for Women.(December,2009).
All India Inter-Collegiate P.M.Paily Pillai Memorial Basketball Tournament for Women.(October,2009).
All Kerala Inter-Collegiate St.Peter's College Volleyball Tournament for Men,(November,2009).
M.G.University Inter-Collegiate Baseball Championship for Men and Women,(January,2009).
All Kerala Inter- Training Collegiate Futsal Tournament for Men,(January,2004).
All Kerala Inter-Training Collegiate Football Tournament for Men,(January,2000 & February,2001).
All Kerala Inter-Training Collegiate Cricket Tournament for Men,(February,2007).
Research Papers
Published a paper on CHD Risk factors in the journal, "VOICE OF SPORTS" (Sept 2007)
Published a paper in the journal, " Phy. Edu. And Exercise Sciences" (Jan 2008)
Published a paper in the journal " Millenium Zoology" (Nov 2008)
Published a Research Text, " A Glance at Physical & Health Edu. For Teacher Trainees" (Jan 2009)
Published a paper in the journal, "VOICE OF SPORTS". (Mar 2009)
Published a paper in the journal, " IJRPESS" (Apr-Sept 2009)
Published a Referance book, " Major Games : Dimensions & Basic Requirements" (June 2009)
Books
Two Books Published by H&C Stores Thrissur;
"Major Games: Dimensions & Basic Requirements" (June,2009)
A Glance at Physical & Health Education for Teacher Trainees"
(Jan.2009)
Conferences/Seminars
Participated in UGC sponsored National Seminar on 'contribution of scientific findings of allied subjects for the promotion of physical education and competitive sports' conducted by Annamalai University on 10th and 11th March 2006, and presented a paper on "Effect of Briskwalking on Triglycerides and LDL cholesterol among middle aged men".
Participated in a one  day workshop on physical education curriculum for B.Ed teachers  at MES Keveeyem College , Valanchery  on 18th August ,2005.
Participated in a workshop on preparation of teaching Manual based on the revised school carriculum held at held at Markaz Training college , Athavanad  on 12th Dec. 2002.
Participated in UGC sponsored National Seminar organised by the Dept. of Phy. Edu, M.A. College, Kothamangalam on 27 & 28 March,2009.
Participated in an Orientation Programme Sponsored by UGC, from 6th Jan to 2nd Feb, 2010. (conducted by UGC Academic Staff College, Calicut University)
Co-Curricular
Qualified Physical fitness consultant, Music (Western); Represented Christ College in Calicut University  Inter – Zone Arts Festival at Kanjangad  (1994-95)