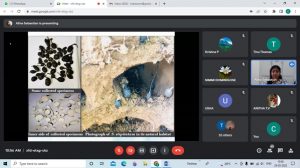 Ph.D. Open Defence and Viva Voce of Ms. Alina K Sebastian, Research Scholar in Research & PG Department of Botany, St. Thomas College (Autonomous), Thrissur 680001,
under the guidance of Dr Anto P V, is held online at 10.30 am, on Tuesday, 24th May 2022 via Google Meet. Title of the thesis was "Molecular characterization and anticancer activity of fungus Sclerotium stipitatum Berk. et. Curr. (Nilamanga)". Prof. (Dr.) P.M Radhamany, University of Kerala was the Chairperson for the conduct of Open Defence.
Congratulations Dr Alina K Sebastian & Dr Anto P V
👍👍
Share This Story, Choose Your Platform!