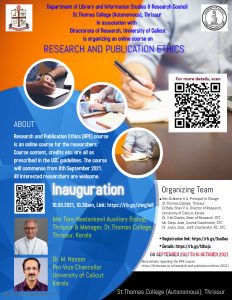 Dear Faculty members & Researchers,
Department of Library and Information Studies & Research Council, St.Thomas College(Autonomous), Thrissur in association with Directorate of Research, University of Calicut is organizing an online course on Research and Publication Ethics Course during 08 September 2021 to 16 October 2021.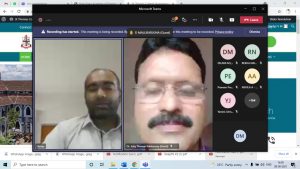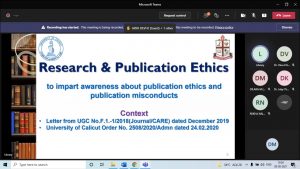 Research and Publication Ethics (RPE) course is an online course for the researchers. The course will be from 8th September 2021.  The course will be inaugurated by Dr. M Nasser, Pro-Vice Chancellor, University of Calicut, Kerala in the presence of Mar Tony Neelankavil, Auxiliarybishop Thrissur & Manager, St.Thomas College (Autonomous), Thrissur and Dr. Baby Shari P A, Director of Research, University of Calicut, Kerala. Link for the programme is: https://www.youtube.com/watch?v=oocFgCgHMl0 All faculty members and research scholars are invited. Dr. Martin K A, Principal-in-Charge, STC, Dr.V M Chacko, Dean of Research, Mr. Sanjo Jose, Course Coordinator
Share This Story, Choose Your Platform!