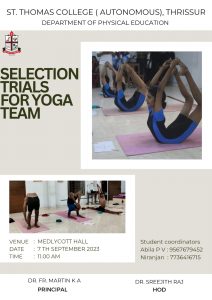 ST.THOMAS COLLEGE.
DEPARTMENT OF PHYSICAL EDUCATION.
Selection Trials for Intercollegiate yoga competition.
Venue : Medlycott Hall
Date : 7th September 2023
Time : 11.00 A M
Please bring comfortable clothes.
Interested students are requested to fill the google form given below ⬇⬇
Google form link:
https://forms.gle/nXUU4dXYztc8dkka7
For any queries contact
9567679452 (Abila P V)
7736416715 (Niranjan P M)
Share This Story, Choose Your Platform!