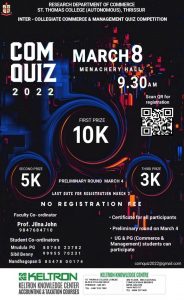 The Research Department of Commerce organized an Inter-collegiate Commerce and Management Quiz Competition, Com Quiz 2022 on 8 March 2022 in association with Keltron Knowledge Centre. 123 teams participated including national and international entries.
First Prize : 🥇Dr. JOHN MATHAI CENTRE, ARANATTUKARA – ANARSHA P & SMINSHA M
Second Prize:🥈 VIMALA COLLEGE (AUTONOMOUS) –
RESMI JOSE & SETHULAKSHMI PS
Third Prize : 🥉 ST. JOSEPH'S COLLEGE IRINJALAKKUDA – ANGEL JIMSON & MARIYA DEYONA
Thank you for all the support.
Jilna John
Faculty Coordinator
Share This Story, Choose Your Platform!