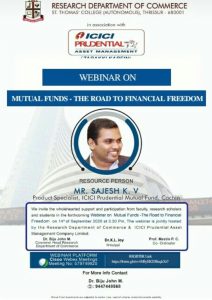 The Research Department of Commerce is organising a Webinar on: Mutual Funds-The Road To Financial Freedom.
Date: 14-09-2020 @3.30 pm
Platform: CISCO WEBEX
Please register and join the whatsapp group in the following link.
https://forms.gle/ov4MSyEK2DEuqkXz7
Download the Webex appliication. The joining details will be shared in the wattsapp group you have joined through registration .