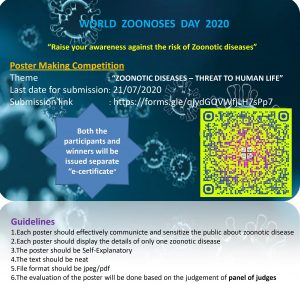 The Zoology department is conducting a webinar on the theme 'Emerging Zoonotic Diseases'.
The session will be handled by Dr. Sunitha Karunakaran,  District Laboratory Ofiicer, Animal Disease Control Project, Thrissur, on 06th July, 2020 at 1.00 pm IST.
Duration:  90 minutes
Registration & participation fee : Nil
Participants will be intimated through email with meeting link.
E-certificate to the participants who fill the feedback form. For availing E-certificate, participation till end of the session is mandatory.
Alongside a poster making competition is arranged on the theme "Zoonotic Disease – Threat to Human Life" (Digital posters not accepted)
Last Date for Poster submission is 21st July, 2020 09:00 pm.
E-certificate to the participants and special certificates to winners.
 Attention
Webinar will be conducted through Microsoft Teams application, so kindly make sure that you are prepared with the application.