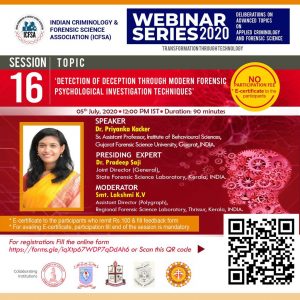 Dear all,
                                                                                                                                                                                 Greetings from ICFSA!
We hope you all are well and safe at home!
                                                                                                                                                                                       Indian Criminology and Forensic Science Association (ICFSA) is conducting *WEBINAR SERIES 2020* on the theme *'TRANSFORMATION THROUGH TECHNOLOGY'*.
The sixteenth session of this series will be handled by *Dr. Priyanka Kacker, Sr. Assistant Professor, Institute of Behavioural Sciences, Gujarat Forensic Science University, Gujarat, INDIA*, on the topic *'Detection of deception through modern forensic psychological investigation techniques'*, on *05th July, 2020 at 12.00 PM IST*.
Presiding expert:  Dr. Pradeep Saji K., Joint Director (General), State Forensic Science Laboratory, Kerala, INDIA.
Moderator: Smt. Lakshmi K.V., Assistant Director (Polygraph), Regional Forensic Science Laboratory, Thrissur, Kerala, INDIA.
Duration:  90 minutes
*Registration & participation fee*: Nil
Selected participants will be intimated through email.
*E-certificate to the participants who fill the feedback form. For availing E-certificate, participation till end of the session is mandatory*.
 *Collaborating institutions*:
University of Calicut, Malappuram, Kerala, INDIA;
 St. Joseph's College (Autonomous), Irinjalakuda, Kerala, INDIA;
  St. Thomas College (Autonomous), Thrissur, Kerala, INDIA;
Department of Psychology, Maharaja's College, University of Mysore, Karanataka, INDIA;                                        Jubilee Mission College of Nursing, Thrissur, Kerala, INDIA.
  *Attention*
 1. The individuals who are not joining the webinar after getting confirmation will not be selected for any webinars hosted by ICFSA.
2. Webinars of ICFSA will be conducted through Google Meet application, so kindly make sure that you register through your Gmail ID. Otherwise you may not be able to log-in to webinars even if your registration is confirmed.