Link to Join: https://www.youtube.com/watch?v=d7J3L2dG52U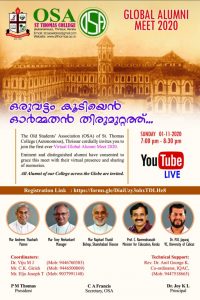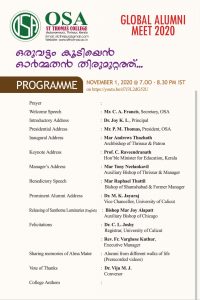 ഒരുവട്ടം കൂടിയെൻ
ഓർമ്മതൻ തിരുമുറ്റത്ത്…
The Old Students' Association of St. Thomas College (Autonomous), Thrissur cordially invites you to join the first ever Virtual Global Alumni Meet 2020.
🗓Date : November 1st 2020
⏰Time : 7 PM to 8:30 PM(IST)
🖥 Online Platform : YouTube
(Link will be provided later)
You may please note:
1. Register for the meet via link https://forms.gle/DiaiUzy3nhxTDLHe8
2. Share fond memories of your Alma Mater along with a short description of you in video of 2/3 minutes to the mail: stcosawebinar@gmail.com on or before 12th October 2020.
3. You may shoot your video in a mobile and upload in your Google Drive and then share to the mail mentioned above.
4. The meet will be attended by our Eminent Alumni and representatives from different Chapters of OSA.
All alumni of our College across the globe are invited to this virtual meet.
We look forward to meet you virtually.
Coordinators:
Dr. Viju M J ( Mob: 9446760383)
Mr. C K Girish (Mob: 9446500069)
Mr. Eljo Joseph T. (Mob: 9037991140)