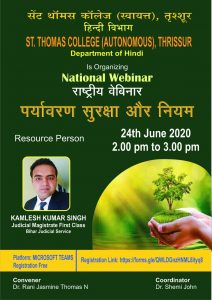 Department of Hindi, St. Thomas College ( Autonomous), Thrissur, Kerala is organizing a *National Webinar* on the theme  " *पर्यावरण सुरक्षा और नियम"*
  DATE : 24 June 2020
TIME: 2.00 PM to 3.00 PM
Shri Kamlesh Kumar Singh, Judicial Magistrate First Class, Bihar Judicial Service, will be the Resource person.
Registration and participation free
For Registration fill the online form given in the link below:
Last Date for Registration 23 June 2020.
E certificate will be provided after filling the feedback form at the end of the session.