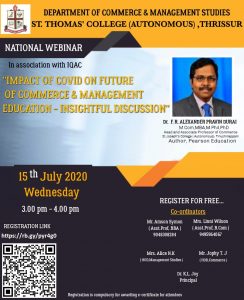 The Department of Commerce & Management studies , St. Thomas' College (Autonomous), Thrissur  in association  with IQAC is organizing a NATIONAL WEBINAR  ON  *"IMPACT OF COVID ON THE FUTURE OF COMMERCE AND MANAGEMENT  EDUCATION : INSIGHTFUL DISCUSSION"*
Date : *15 JULY 2020*
Time: *3 PM to 4 PM*
Resource person:
 *Dr.F.R.ALEXANDER PRAVIN DURAI*
M.Com,M.Phil,MBA, Ph.D.
Head & Associate Professor of Commerce
St. Joseph's College (Autonomous), Tiruchirappalli
There is no registration fee to attend this seminar.
 Registration is compulsory for awarding E- Certificate for attendees.
 You can register the program by  following the link below:
Please join  the  Whatsapp group  since the meeting details and further communications will be shared through the group.
With regards,
Amson Symon (9048308284)
Linni Wilson (9495964067)
Programme Convenors
St. Thomas' College (Autonomous), Thrissur.
#Stayhome # Stayhealthy#