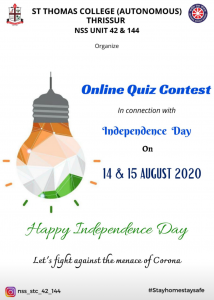 NSS Unit 42 & 144 of St Thomas College (Autonomous) Thrissur is organizing an online quiz on the occasion of Independence Day.
Click this link to attend the quiz
https://forms.gle/4o6rLHBibdrMKyi37
All participants with a score of 70% and above will receive an e-certificate via e-mail after completing the quiz.
Date: 14 August 2020
Last time and date for submitting form is *11.59 PM 15th August 2020*
"Let's fight against the menace of Corona".