DEPARTMENT OF ENGLISH
OUR DEPARTMENTS
Dr. Syam Sudhakar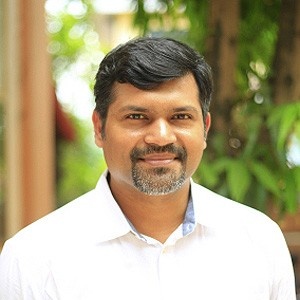 Address:
'Smitham', Nellikkattri P O , Kootanad,
Palakkad District , Kerala. 679 533
Email
Qualifications
2010 – 2014  Ph.D in English Literature from the University of Madras. Thesis title: Beat
After Beat: Re-contextualising Performance and Subculture.
2008 – 2009     M.Phil in English Literature from Presidency College, Madras.
2006 – 2008     M. A in English Language and Literature from the Department of English, University of Madras.
Awards
2008   Madras Kerala Samajam Poetry Award, Madras Kerala Samajam, Chennai.
2007   Vallatol Poetry Prize for Poetry by Kerala Kalamandalam, Cheruthurithi, Kerala.
2002   Nandita Poetry Award, Pappiyon Publishers, Calicut, Kerala.
Research Interests
Poetry
Gender
Subculture
Performance
Regional Literature
Translation
Masculinity
Aesthetics
Publications
Books

Avasanathe Kollimeen (The Last Meteor  A collection of poems). Current Books, Thrissur. (Malayalam) 2014
Drenched by the Sun (A collection of Poems). New Century Books, Chennai. 2013
Slicing the Moon: A Screen book of Poems (Video rendering of poems). Black Dot & SSAH, Chennai & Sydney. 2013
Syam Sudhakar Kavithaikal (Poems of Syam Sudhakar Trans. Yuma Vasuki), New Century Books, Chennai. (Tamil) 2008
Earpam (Damp A collection of poems). Pappiyon Books, Calicut. (Malayalam) 2001

Selected Research Papers

"South Indian Poetry: New Writing – New Thinking." The Commonwealth Review. Indian Society for Commonwealth Studies, New Delhi, India. 2013
"Vicki Viidikas – On the Road". Asian Journal of Literature, Culture and Society. Vol 06, No. 02. Oct issue. Assumption University, Bangkok, Thailand. 2012
"Subverting Cultures: Performing Gay Body in Literature". Mapping Territories: Critical Insights into Post Independence Indian Writing in English. MCC, Chennai. 2012
"Elephant Images and Representations: Narratives and the Production of Cultural Signifiers in Kerala", Issues in Ethics and Animal Rights, Daya Publication, New Delhi. 2011