Directives to the Students for smooth conduct of Exams during COVID – 19:
1. Reach the Venue (Jubilee Block), one hour before the commencement of the exams for Thermal Scanning, hand sterilization, etc.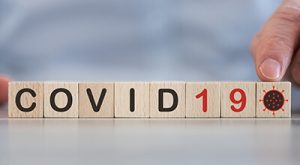 2. No Vehicles (of Staff & Students including Bikes) are permitted inside Jubilee Block.
3. Better to drop the student at the entrance and pick up from there after the exam.
4. Limited parking will be available at the Admin Block.
5. In order to do thermal scanning at the gate of Jubilee Block, all are permitted to enter by walk only.
6. Quit the campus immediately after the examinations.
7. Better to have food from one's own home since the canteen and hotels may not be available.
8. Better to bring water from home for safety although water is available in the College.
9. All should wear masks and use hand sanitizer placed near the main door.
10. No group studies or discussions permitted before or after the exams on the premises of the campus.
11. Obey all the directions given by the Police, Health Workers & Staff
STAY ALERT, STAY HEALTHY!
Controller of Examinations St Thomas College (Autonomous), Thrissur
Share This Story, Choose Your Platform!