Dear Heads of the Departments/Class Teachers & Students,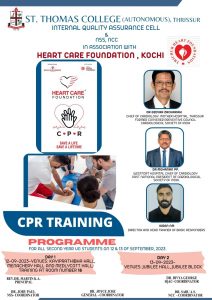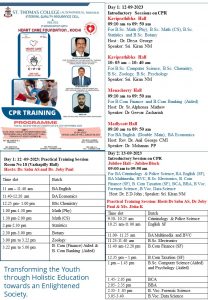 Registration Link is given below
https://forms.gle/ZCwY5AdmVia8epdw8
The IQAC of our college in association with NSS and NCC is conducting a training for all Second Year UG students on the 12th and 13th of September, 2023. The Training will be provided by the staff of "Heart Care Foundation, Kochi" founded by Padmashree Dr. Jose Chacko Periappuram who performed the first successful heart transplant in Kerala and revolutionized cardiac care in our state. The schedule of the two-day programme is given. Kindly ensure that the teachers and students of your department reach in time and cooperate with the volunteers for the smooth and timely conduct of the programme. Please ensure that all the second year UG students of your department fill this registration form so that certificate distribution can be done on the site itself.
Principal
Share This Story, Choose Your Platform!