DEPARTMENT OF COMPUTER SCIENCE
OUR DEPARTMENTS
Ms. Reshma K R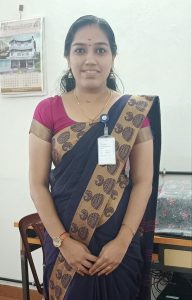 Address:
Thangalazhi House,
Kallepadi Road, Mulamkunnathukavu. P.O
Thrissur District
Email-Id
Academic Qualifications:
MTech, Jyothi Engineering College
Research Interests
Awards/Success
GATE 2015
UGC NET 2017, 2018,2019
Work Expereince:
Four years experience (Jan 2018 – till date) as a guest lecturer in Computer Science Department, NSS College, Ottapalam, Palakkad.
Technical Certifications
Microsoft Certified Professional (MCP) in "Programming in C#"
MCP in "Developer: Windows Store Apps Using C#."
Microsoft Certification in Introduction to R Programming.
EdX Certification in Introduction to computer programming conducted by IIT Bombay.
Conferences/ Workshop
Participated in Faculty Development program on "MACHINE LEARNING"
Participated in Two days Faculty Development program on "Internet of Things" hosted by ISTE and Kerala Startup Mission.
Participated in one day workshop on Internet of Things (IoT).
Participated in Two days Faculty Development program on the topic"Hadoop and R Programming".
Publications
K.R,(2021),"A Deep Learning Approach for Attack Identification in 802.11 networks",IJESC.
K.R, Jyothis.T.S (2017), "A Deep Neural Network Model For Attack Identification in Wi-Fi Networks", IEEE International Conference on Communication and Signal Processing (ICCSP) .
Susan Shaju, Diana Davis and K.R.Reshma (2016), "A survey on computer aided techniques for diagnosing Alzheimer disease", IEEE International Conference on Circuit, Power and Computing Technologies(ICCPCT).