DEPARTMENT OF BOTANY
OUR DEPARTMENTS
Dr. Vimala Jose, M.Sc., B.Ed., Ph.D.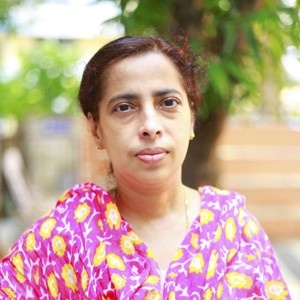 Address:
Paraemackal House , Kallaekulangara P O
Palakkad -678 009
Email
vimalajose1974@yahoo.com
Education
M. Sc Botany, University of Calicut
B.Ed (Natural Science), University of Calicut
Ph. D (Botany), Indian Institute of Spices Research, University of Calicut
Honors Received
Junior Research Fellowship (CSIR, India)
Research Papers
Tissue and Cell culture Research in Spices. Spice India, 2001
Studies on in vitro orchid seed germination. Mercy Research Review, vol3, no 1. pp 67-74 (2007).
Genetic variation and interrelationships in Vanilla planifolia and few related species as expressed by RAPD polymorphism.  Genet Resour Crop Evol (2008) 55: 459 -470.
Research Grants
Completed a UGC sponsored minor research project entitled  Studies on the effect of agricultural wastes on the mass multiplication of Biofertilizers  (MRP (S) 588/ 2007 (X plan) KLCA 021 /UGC-SWRO)
Completed a UGC sponsored  Career Oriented Programme on Biofertilizer Technology (F. No. 4-115 /2007 (VE/ COP).
Conferences
20 th Kerala Science Congress (28 -31 Jan, 2008, Thiruvanathapuram) presented a contest paper entitled  Hybridization in Vanilla under Life Science  section.
Presented a paper on in vitro culture and field inoculation of Blue Green Algae  at the UGC sponsored National seminar on Managing fragile Ecosystems organised by the Post graduate Department of Botany, MES Asmabi College, Kodungallur and the M S Swaminathan Research Foundation (15, 16 th 2010).
Presented a paper on Bioresource Technology- its application and achievements in the international conference ICBRT -2010 organised by Nirmala College, Coimbatore(7 – 8 Oct 2010).