Session by Lieutenant Colonel Hemanth Raj – An interactive session on military- uniform services -Balidhan param dharma organised by the Department of Criminology and Police Science, St Thomas College ( Autonomous).
തൃശൂർ സെന്റ്. തോമസ് കോളേജിലെ ക്രിമിനോളജി ആൻഡ് പോലീസ് സയൻസ് ഡിപ്പാർട്മെന്റിന്റെ ആഭിമുഖ്യത്തിൽ മിലിറ്ററി യൂണിഫോം സർവീസ്സിന്റെ പ്രാധാന്യം ചൂണ്ടിക്കാട്ടികൊണ്ട് സെമിനാർ സംഘടിപ്പിച്ചു. |
https://www.thecampuslifeonline.com/2023/09/blog-post.html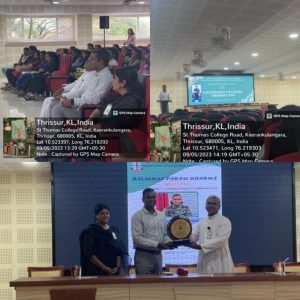 Share This Story, Choose Your Platform!