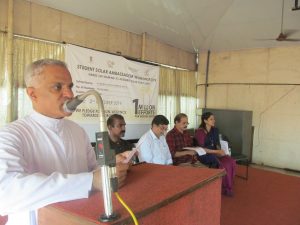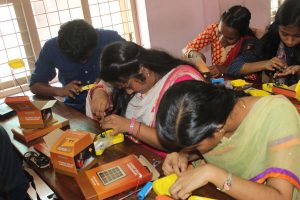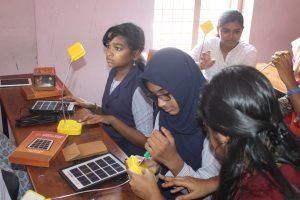 As part of 150 birth day celebration of Mahathma Gandhi , We department of Physics  ,St.thomas College , Thrissur in association with Indian Institute of Technology (IIT) Mumbai  have organized Students Solar Ambassador workshop SSA -2019  at Jubily Block ,St.Thomas College , Thrissur, Kerala  . We have invited the students  for the participation of the program in  August .   Students from high schools to Research institutes registered for the Solar Ambassador workshop  to find the working of Solar Panel and assembling of Study Lamp Kit  . Eight trainers from the field of energy attended one month  online training course from  IIT Mumbai  as part of Solar Ambassador workshop  .
The program started on 2 October 2019 at 9.30 a.m at  seminar Hall Jubilee block , St.Thomas College ,Thrissur . After the common meeting at the General hall ,   the program coordinator Dr.Vimalkumar T V    addressed  the students. After the introduction  talk  , the students  were divided  with 25 numbers in each batch for the  workshop .  We have conducted a Quiz Program among the students on the topic of Energy conservation on the same day.During the workshop trainers introduced on working of the solar panel and components of the solar study lamp kit . The components of lamp kit were checked by the students. After this the students has started to assemble each components of the lamp with the help of the trainers. The students got good hands on training experience after the assembling of the lamp kit . The valedictory function was started  with  welcome speech  by the  Program  coordinator  Dr.Vimalkumar T V and  presided by  Prof.P.M.Joy ( Head of Dept of Physics ) .  Rev.Fr.Varghese Kuthur , Executive Manager , St.Thomas College ( Autonomous ) Inaugurated the Program   . The director of All India Radio , Thrissur , Mr.T.T.Prabhakaran was chief Guest of the Program   and he  give the key note address about the importance of energy conservation for the solution of Climate changes and global warming and also read the Pledge as a Part of International Non – Violence Day.Then the students  together lightened the Solar  Study lamp  and Dr. Ann Mary K.A  expressed  the gratitude to all the participants presented for the Workshop .
Share This Story, Choose Your Platform!