The Research Council of St. Thomas' College, Thrissur, organised the Annual Research Scholars' Meet -2018 on the 24th of February 2018 at Menacherry Hall and Hall No. 18 of the College.
Inaugural session: Registration was over by 09.30 am followed by the Inaugural session in Menacherry Hall. Dr. Joby Thomas' K (Research Council Coordinator) welcomed the gathering. Dr. Jenson P. O. (Principal) delivered the Presidential address. His Excellency Mar Tony Neelankavil, the manager of the college and Auxiliary Bishop of Thrissur Arch diocese delivered the key note address. Dr.K.Mohandas,Former Vice-Chancellor, Kerala University of Health and Allied Sciences inaugurated the meeting. Rev. Fr.Vargheese Kuthur, Executive Manager and Bursar of the college felicitated the Research Council. Dr. Biju John M proposed the vote of Thanks.
Technical Session (10:45 am)- The session was divided into two.
1.Science Stream: The technical session was conducted in Menacherry Hall and led by Dr.Radhakrishnan G Pillai, Faculty, Dept. of Life Sciences, University of Calicut. He could successfully explain the dos and don'ts of a qualitative research in such an interesting way that the audience where very much thrilled.He was introduced by Dr. Ignatius Antony (Vice Principal).Dr. Chacko V.M. (Joint Coordinator of the Research council) proposed vote of thanks for him.
2.Humanities and Languages: The technical session was conducted in Hall No.: 18 and led by Dr.Sreejesh S, Faculty, School of Management Studies, Cochin University of Science and Technology.He was introduced by Dr. Thomas Paul kattookarn (Vice Principal).Dr. Fr.Martin Kolambrath (Associate Bursar) proposed vote of thanks for him.
Panel Discussion: Soon after lunch break (1:30 pm) followed the panel discussion.Dr. Joby Thomas K was moderator for the panel discussion that followed. The panel included Dr.Radhakrishnan G Pillai, Dr.Sreejesh S, and Dr.P.O Jenson(Principal). The panel discussion was the most lively and appreciated session of the day with research scholars asking many doubts regarding the new regulations, regulations regarding selection of guides and co-guides, Ph.D. registration processes, course work processes and other administrative formalities.
This was followed by a session of self introduction by research scholars (Interactive Session).
Valedictory function: The valedictory session consisted of a brief summing up by the Principal Dr. Jenson P.O. before he distributed the certificates to all participants. The Joint convener Dr.Sr.Julie Andrews proposed the Vote of Thanks.
Total Participation: Twenty nine guides, one post doctoral fellow, 84 research scholars and two council members attended the Research Scholars meet in the current year.
Total attendance was 116.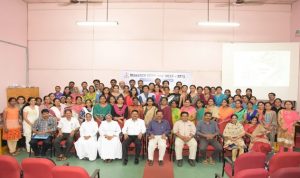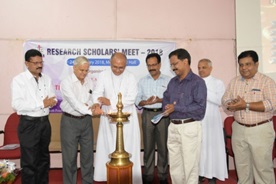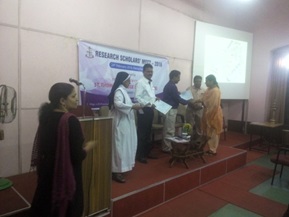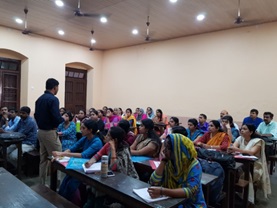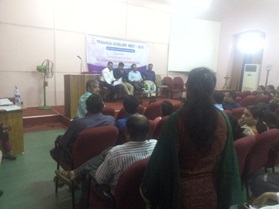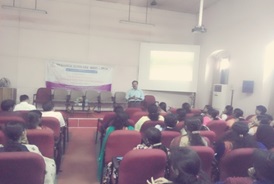 Share This Story, Choose Your Platform!