About the Conference
From the perspective of users, libraries and information centres have to be improved in their outlook and services. Many libraries have undergone radical changes in recent years and came up to or above the level of expectations of the users. By updating themselves, these libraries and information centres have put forward new benchmarks for assessing the quality of services. Through three days National Conference on Librarianship : Information : Management, organisers are providing you an opportunity for exposure to significant best practices and tools which are implemented and succeeded in the arena of libraries and information management.
Why : (Colon) in the title of Conference
It's the 125th birth anniversary of Dr. S. R. Ranganathan, who devised Colon Classification for Knowledge Organisation. It's our tribute to the Father of Library Science.
Important dates:
Last date of early-bird registrations: November 29, 2017
Normal registration and spot registration are available upto
Conference dates: 7, 8, 9 December 2017
Guest of Honour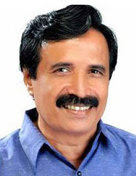 Prof. C. Raveendranath
Minister for Education, Government of Kerala
Resource Persons
Dr Ananda T. Byrappa, Librarian, Indian Institute of Science, Bangalore
Dr Francis Jayakanth, Scientific Officer, Indian Institute of Science, Bangalore
Dr Anila Sulochana, Assistant Professor, Central University of Tamil Nadu
Dr Dileep Raj, Assistant Professor, Government Brennen College, Thalassery
Sri Lalith Babu, State Resource Person, RTI
Share This Story, Choose Your Platform!