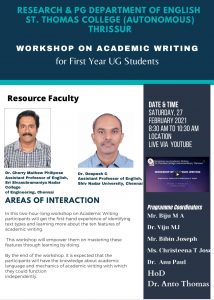 Research and PG Department of English is organising a Workshop on Academic Writing on 27th February 2021 for Second Semester Undergraduate students.
Resource Persons
Dr. Deepesh C
Assistant Professor of English, Shiv Nadar University, Chennai
Dr. Cherry Mathew Philipose
Assistant Professor of English, Sri Sivasubramaniya Nadar College of Engineering, Chennai
Outline
In this two-hour long workshop on Academic Writing participants will get first-hand experience of identifying text types and learning more about the ten features of academic writing. This workshop will empower them on mastering these features through learning by doing. By the end of the workshop it is expected that the participants will have the knowledge about academic language and mechanics of academic writing with which they could function independently.
Time:8.30 am-10.30 am