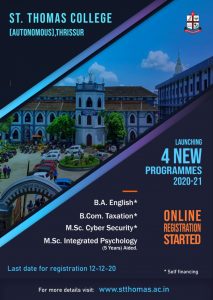 St Thomas College (Autonomous) has been offering innovative new Programmes in response to the emerging demands of the students and the job market. Since the last few years, college is offering new programmes such as BA Criminology and Police Science, BVoc Forensic Science & BVoc Data Science.
In 2020-21, St Thomas is offering Four more Programmes:
1) M. Sc Integrated Psychology (5 Years) Aided.
2) M. Sc Cyber Security*
3) B. Com Taxation*
4) B. A. English*
(* Self financing)
The registration for admission to these programmes will commence on 29-11-2020.
Last date for online registration 12/12/20.
Admission Cell
St.Thomas College (Autonomous), Thrissur.