Dear All,
Research Council, St.Thomas College (Autonomous), Thrissur is organizing a NATIONAL SEMINAR ON
"Interdisciplinary Research Approaches " & Research Scholar's Meet 2022
Date : 18th &19th February 2022
Time : 9 AM
Participation Link (Arts, Commerce & Humanities)
Invited Guests include:
Presidential Address.
His Excellency Mar Tony Neelankavil, Manager & Auxiliary Bishop of Thrissur
Inauguration :
Prof. Sabu Thomas, Hon'ble Vice Chancellor of Mahathma Gandhi University, Kottayam.
Keynote Address.
Prof. P G Sankaran, Pro-Vice Chancellor, CUSAT
Resource Persons: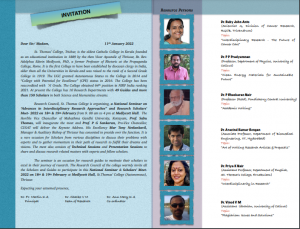 Dr. Ruby John Anto
Division of Cancer Research, RGCB, Trivandrum
Dr. Pradyuman P P
Department of Physics, University of Calicut.
https://youtu.be/ReeoPkVBbZY 
Dr. Aravind Kumar Rengan
Department of Biomedical Engineering, IIT, Hyderabad.
Dr. P Bhaskaran Nair
Professor(Rtd), Pondichery Central University
Dr. Priya K Nair
Department of English, St. Theresa's College, Ernakulam.
Dr. Vinod V M
Assistant Librarian, University of Calicut.
SESSION 1
SESSION 2
All Heads of the Research Centres, Research Guides and Research Scholars are invited. Registration for the seminar can be done using the following link provided:
https://rb.gy/g5cuaq
Dr.Martin K A
Principal-in-Charge
Dr. Chacko V M
Dean of Research
Co-ordinators:
Dr. Ann Mary K A (8921497571)
Dr. Viju M J (9446760383)