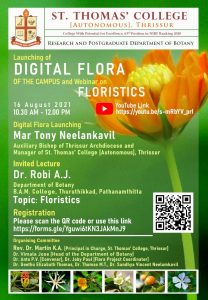 Dear Sir / Madam,
Greetings from St. Thomas' College [Autonomous], Thrissur.
The Research and Postgraduate Department of Botany is Launching the DIGITAL FLORA of the campus on 16.08.2021, 10.30AM. The digital flora consists of more than 300 species pages with updated nomenclature, taxonomy, photographs, descriptions and uses from the recently acquired centenary campus at Cheroor, Thrissur.
The launching of the Digital Flora for the public will be by Mar Tony Neelankavil, Manager of St. Thomas' College [Autonomous], Thrissur through youtube live: https://youtu.be/s-mRbYV_prI
As a part of this database launching, we are organizing a webinar on Floristics. Dr. Robi A.J., Department of Botany, B.A.M. College, Thuruthikkad, Pathanamthitta will be the resource person. Kindly use the QR code or link https://forms.gle/zZMiCDAWQS1anRhs8 for registration.
All are invited. Rev. Dr. Martin K. A. (Principal), Dr. Vimala Jose (HOD), Dr. Anto P. V. (Convener) Dr. Joby Paul (Flora Project Coordinator).