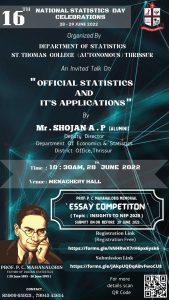 "Greetings from Dept. of Statistics, St. Thomas College (Autonomous), Thrissur"
We are happy to inform you that as a part of the 16th National Statistics Day celebrations, the Department of Statistics, St. Thomas College(Autonomous), Thrissur is organizing an interactive session by Mr. Shojan A.P, Deputy Director, Department of Economics and Statistics, District Office, Thrissur on the topic "Official Statistics and its applications" on 28th June, 2022.
Extending you a very warm welcome and expecting your esteemed presence to make it a successful event.
Dr. Anusree M. R
Ms.Ashlin Mathew P. M