DEPARTMENT OF COMMERCE
OUR DEPARTMENTS
Dr.Daisland Thattil M. Com, BEd, PGDCA, PhD.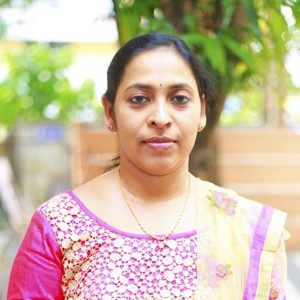 Address:
C/o Joshy M. A., Maripurath House , Kurichikara P. O.
Mattampuram , Thrissur – 680 028
Email
Education
M.Com (Calicut), B.Ed (MG), PGDCA, MBA, Ph.D.
Awards/Honours
1st Rank in M.Com., Calicut University
Research Area
HRM- Stress Management among nurses of private and public hospitals
Publications
Job Satisfaction with special reference to Arts & Science College teachers of Kerala ISSN 0975-8941  pp168-176, Vol-III No. 1 Research Lines- June 2010
Stress Management among Female Higher Secondary School Teachers in Kerala. Research lines  – Dec.2010, Vol III No.II-B  PP 14-19
Socio-Economic Status and Job Satisfaction- A Nursing Issue Misbah-ISSN 0976-2523,  2011 Nov-March Volume-4,  PP 80
M-Commerce-"Anytime, Any Where Sales Channel" Proceedings of UGC Sponsored National Seminar on "Recent Trends in Commerce, Trade and Industry",  March 7-8, 2011,  Organised by P.G. Dept. of Commerce, Govt. College, Chittur, Palakkad, Kerala-678104
A study on Occupational Stress with special reference to  Kerala  Lakshmi Mill Mirror-Vol.II, No-I-A  March 2012,  ISSN 2249-8117, PP 71-74- Scholars Association
"The effect of Airline Crisis in the Indian Economy" POSEIDON- Journal of Commerce, Management and Social Science- Vol II December-2012 PP 87-94
"A study on the employee attrition in the insurance sector"- Proceedings of National Seminar on the topic Emerging Trends in banking,Insurance and financial services on 17th and 18th March 2015 at St.Thomas college Tcr.
"Kudumbasree a catalyst for women empowerment –Proceedings of UGC sponsored national seminar on" Perspectives of women entrepreneurship in India" at Mercy college Palakkad on28th January 2015.
Paper Presentation
"Role of DIC in Development of MSMEs in Kerala with special reference to Thrissur District" in the 2 day international conference on "Entrepreneurship in Globalised world-Challenges, Policy and Strategy perspectives"  Organised by School  of Management, Depaul Institute of Science & Technology, Angamaly on 13th, 14th Dec. 2013
'Camels Rating System"- A National Seminar on Banking Divergence Challenger and Solutions Organised by Dept. of Commerce and Management Studies Sri C Achuthamenon Govt. College, Thrissur- Kerala   on 21st, 2nd Feb. 2012
M-Commerce- "Any time, Anywhere, Sales Channel" 2 days National Seminar on Recent trends in Commerce, trade and industry sponsored by UGC & organized by Dept. of Commerce, Govt. college, Chittur  on 7th, 8th March 2011
"Foreign Direct Investment in India Policy and Impact on Agriculture Sector"
National Seminar on Foreign Direct Investment in India-Policy Issues and Implications Sponsored by UGC conducted by PG Dept. of Commerce, Govt. College, Thrissur on 16th Dec. 2011.
" DIC-AN ACTIVE FORCE IN ENTREPRENEURIAL DEVELOPMENT"    -Paper presented in the UGC Sponsored 2 day National Seminar on Fostering  Entrepreneurship for Sustainable Economic Development organized by S.N. College,Alathur,Palakkad on 20th & 21st Feb 2014.
"KUDUMBASREE – A CATALYST FOR WOMEN EMPOWERMENT"   paper presented in the National Seminar on Perspectives of Women Entrepreneurship in India organized by the Post graduate Department of Commerce,Mercy College,Palakkad on 28th Jan 2015.
Participated in the one day regional workshop on preparation of scholarly  article and publication on 15th nov 2014 organised by the department of management studies, M D Colllege, Pazhanji.
Participated in the national seminar on "Opportunities and Resources in Research" organized by the research council,St.thomas college,Thrissur on 3rd March 2015