DEPARTMENT OF BOTANY
OUR DEPARTMENTS
Dr. Anto P. V. M.Sc., B.Ed., Ph.D.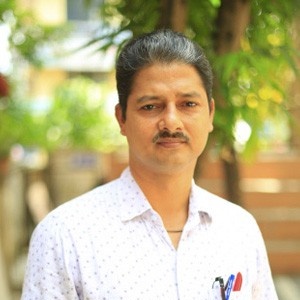 Address:
Puthur House, Santhy lane,
Chettupuzha, Thrissur . 680621.
Email
pvabotany@yahoo.co.in, pvabotany71@gmail.com
Education
Ph. D., University of Calicut
B.Ed. University of Calicut
M.Sc. University of Calicut
Thesis
"Demographic studies on selected four  Calamus species of Western Ghat"
Positions held
Board of studies member STC
Research guide
Public Relation Officer STC
Senior Assistant of Exam Superintended
Govt. Scholarship verifying officer STC 2013-2021
Principal Sunday catechism Chettupuzha
Nature Club Convenor 2015-2021
Scholar support program Co-ordinator
Research Interests
Taxonomy
Microbiology
Environmental studies
Awards/Success
Best environment protection practice from  Elavally gramapanchayath on 13/04/2021
Best Researcher Award from VDGOOD Professional AssociationVisakhapatnam on 21/11/2020
Certificate of Appreciation from  Elavally Gramapanchayath on 10/02/2021
Professional Activities
Plant identification, authentication for public and research scholars.
Protection and revitalization of critically endangered tree species Syzygium travancoricum.
Ph.D. Students
Smitha PS
Neenu A Santhosh
Alina K Sebastian
Nimmi C Dominingose
Co-Guide For
Seena K K
Keerthana Nandakumar
Afsana Khan
Reshma Asok
Dhanya Jose
Jithin
Research Papers
Anti-inflammatory Activity of Sclerotium stipitatum Berk. et. Curr. an Ethnomedicinal Fungus, in Chronic and Acute Animal Models of Inflammation
Taxonomic studies on genus Utricularia of the Thrissur
Plant physiology Plant Ecology And Genetics
Metagenomic Insights of Endophytic Bacteria in Morinda pubescens using NGS TechnologyIndian Journal of Natural SciencesVol.10 / Issue 60 / June / 2020
Scientific rediscovery of fungoid bodies and habitat studies on sclerotium stipitatum Berk. Et Curr. International Journal of plant , animal and environmental science. 5(3)1-3, 2015
Seasonal Influences on Phytoplankton Diversity in Tributaries of River Bharathapuzha, Palakkad District, Indian Hydrobiology,18 (1&2) 252-264, 2019
·        Assessment of antifungal activity of teak and betel leaves extract against Colletotrichum gloeospori,, International journal of science & applied research, 2015

·        KARYOTYPE ANALYSIS INCALAMUS PALUSTRIS GRIFF.,J. Bamboo and Rattan, 1(3) 199-203, 2002

·        A NEW SPECIES OF CALAMUS9 (ARECACEAE) FROM SILENT VALLEY, KERALA ,INDIA,Rheedia, 7 ( 2) 69-71, 1997

·        Calamu shendurnii- a new psecies of Arecaceae from Kerala India, Rheedea,11(1), 37-39,2000
A new species of Rotala L .( Lytraceae) from the lateretic hills of thrissur District, Kerala, India, International Journal of Advanced Research,2(11), 532-535,2014
Evaluation of antimicrobial activity of fruit peels of selected Citrus species against human pathogen,, Journal of pharmacognosy phytochemistry,3(4), 278-281,2015
Cellular architecure in selected species of genus Dioscorea, Kerala, India. International Journal of Advanced Research,,2(9),2014
Antibacterial activity of five selected species of Pteridophytes., International Journal of innovative research & development,4(8), 379-383,2015.
taxonomy of selected species of Cissus (Vitaceae) from Thrissur District, South Indian Journal Of Biological Sciences,1(2), 222‐228,2016.
A preliminary taxonomic study on the major grasses of low altitude grassland of Thrissur, South Indian Journal Of Biological Sciences,1(2), 183‐190,2016
EVALUATION OF ANTIBACTERIAL ACTIVITY OF CISSUS ARISTATA BLUME AGAINST HUMAN PATHOGENIC BACTERIA., Int. J. Adv. Res.,5(5), 1246-1250,2017.
Review Microalgae:- A potential source, International journal of research and analytical reviews,5(3), 484-494,2018.
HPTLC and GC-MS anlysis of pathenocissus renukae Anto & Pradeep, Journal of Pharmacognosy and phytochemistry,7(4), 3449-3452,2018
Eriocaulon pradeepii , A new species of Eriocaulon from South India, Taiwania,62(4), 371-374,2017.
Ophioglossum raphaelianum (ophioglossaceae) – a new species from south India., International Journal of Advanced Research, 4(5), 1268, 2016.
Parthenocissus renukae, a new species of Vitaceae from South India, Taiwania,63(2), 139-142,2018.
Research Grants
UGC Minor Project-Rs-150000. Taxonomic and Biochemical studies on Sclerotium stipitatum  (Nilamanga):A rare termite fungus.
Conferences/Seminar/Workshop Attended
Moodle training workshop 11-11-2017
Aquiring API scores and submitting PABS based proposal under CAS 11-11-2017
Species The Passion IV 28-06-2018
Office and laboratory management in colleges 06-10-2018
Plant Economy Training programme 25-10-2018
Faculty orientation programme 06-06-2019
Workshop Emotional inteligence 19-07-2018
plant taxonomy training programme 25-10-2018
Emerging Trends in Genomic Research seminar 22-02-2019
QUALITATIVE RESEARCH 02-03-2019
INNOVATIONS IN ADVANCED RESEARCH 16-03-2019
PREDATORY MITES AS BIOCONTROLL AGENTS 17-03-2018
RESEARCH SCHOLAR MEET 24-02-2018
Two days NATIONAL COLLOQUIUM 07-03-2017
Two Day seminar Species the passion III 16-06-2017
AQUIRING API AND SUBMITTING PBAS BASED PROPOSAL UNDER CAS 08-05-2017
RESEARCH EXPECTATION AND EXTENSION 19-03-2016
One day workshop on Revised NAAC Accreditation process 03-08-2019
Faculty orientaion programme 06-06-2019
Two day seminar Building Excellence- A senior faculty Workshop 13-12-2019
Revised NAAC Accreditation Process 03-08-2019
Molecular Taxonomy And DNA Barcoding:Concepts, Methods and Application 20-05-2020
Classroom on online platform: Dealing with transitions in teaching learning methodes 23-05-2020
A.A.C. Accreditation for Autonomous / Affiliated colleges 22-05-2020
Weinar on Organised and successful life science research-Desk to universal 16-05-2020
Webinar on outcome based education 13-05-2020
webinar on online learning app and tools for Higher Education 27-05-2020
Organization of Conferences/Seminar/Workshop
CENTRY OF BIODIVERSITY (ENVIRONMENT DAY CELEBRATION WITH SEEDLING DISTRIBUTION 08-06-2018
QUERENTIA EXHIBITION Convenor 16-08-2018
ENDEMIC PLANTS PHOTO EXHIBITION Convenor, 23-08-2018
SEMINAR ON SNAKES, Convemor 14-06-2018
FIELD VISIT TO AYUSH JACK FARM 07-07-2018
FIELD TRIP TO PERUMALA 30-06-2018
CLUB DAY CELEBRATION WITH ENDEMIC PLANT EXHIBITION 23-01-2019
Greenday celebration Convenor 03-09-2019
Environment day celebration  Convenor 27-06-2019
Research Cell convenor, 18-02-2017
Two dayNational seminar species the passion, Environment day observation 26-06-2019
police dog exhibition convenor 14-11-2019
AIDs day celebration with police academy on 30-11-2019
Environment day celebration  08-06-2020
Webinar Art of Scientific Writing and publishing 26-09-2020
Environment day competitions 05-06-2021
Patent application WEBINAR 19-07-2021
Guruvandhanam three day International webinar 05 to 07-09-2021
Inter collegiate paper presentation competition 25-09-2021
Digital flora longing and seminar on floristic 16-08-2021
Special Seminars/Invited Talks
Taxonomical identification of plants,  Dept of Botany, St Josephs college Irinjalakuda,2/.08/2017.
taxonomical identification of plants, Dept of Botany, St Marys college Thrissur,30.07.2016
Two new species of Eriocaulon from Thrissur District, Species the passion 3, Dept of Botany, St Thomas college Thrissur,16.06.2017.
PLANT TAXONOMY,PLANT TAXONOMY TRAINING PROGRAMME, CARMAL COLLEGE MALA,25.10.2018.
Taxonomical identification of plants and key preparation, St Marys College, Thrissur,13.07.2018.
office and laboratory management,, IQAC , St. Thomas College, Thrissur, 06-10-2018.
The genus ophioglossum of Thrissur, species the passion IV, Department of Botany, STC, 28-06-2019.
Consultancy
Plant identification for scholars of College of Veterinary & Animal Sciences, Mannuthy, Thrissur, Kerala1/11/2017
Asper scholarship, Devikrishna MES College, ASMABI, 01-11-2017.
Asper scholarship, Amrutha P A, Maharajas College, KOCHI 01-11-2017
Student project, SHCGHS THRISSUR, 01-10-2018
Student Project, ST THOMAS CHSS THRISSUR 10-10-2018
Extensions
PRESIDING OFFICER IN ASSEMBLY ELECTION 06-04-2021
Election Presiding officer 28-11-2020
Fungal herbarium deposition in NFCCI29-01-2021
campus plant identification name board fixing in KILA, 06-11-2019
Planting Kulavetty trees at Elavally G P, 28-02-2020.
conservation of kulavetty trees at vellayanipacha, 05-12-2019
conservation of syzygium travancoricum by seedling planting, 15-06-2019
Herbarium deposition of two isotype of new species, BSI COIMBATOOR, 17-04-2017
Election presiding officer, 22-04-2019
deposition of herbarium Holotype of new species, Herbarium of univerity of Calicut,24-03-2017
ST ANN\'S HSS ORPHANAGE SCHOOL STUDENT MENTER01-06-2013 to 30-01-2016
ST ANN\'S HSS ORPHANAGE SCHOOL STUDENT MENTER01-06-2013 to 30-01-2017
ST ANN\'S HSS ORPHANAGE SCHOOL STUDENT MENTER01-06-2013 to 30-01-2018
ST ANN\'S HSS ORPHANAGE SCHOOL STUDENT MENTER01-06-2013 to 30-01-2019
Conservation of syzygium travancoricum by seedling planting, Elavally panchayath,15-07-2019.
conservation of syzygium travancoricum by seedling planting Elavally panchayath,15-03-2019
RAC subject Expert in KFRI 23-03-2021
Subject Expert, Guest lectures interview, St. Aloyius college, Elthuruthu,24-07-2020
PhD vivo-voce chaiman, M G university, Kottayam 25-10-2016
Subject Expert for field visit, St. Josephs college Irinjalakuda, 22-10-2016
Subject Expert for field visit ST MARYS COLLEGE THRISSUR06-01-2017
Reviewer of journal, Nordic Journal of Botany, 10-08-2018
INSTITUTE VISIT , NATIONAL COFFEE MUSIUM CHIKKAMANGOOR 27-11-2018