THEME :    parenting
Participants  : (Kudumbasree unit 9th
Division Cheeroor Thrissur
Date20 /03//2021
Time :11.30pm-12.30pm
Presidential Address Dr Sr Alphonsa Mathew
,Vice  Principal
St Thomas 'College  (Autonomous) Thrissur
Chief Guest:-   Ms: Smitha Satheesh
Juvenile Justice Board Member, KELSA Panal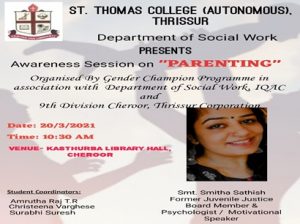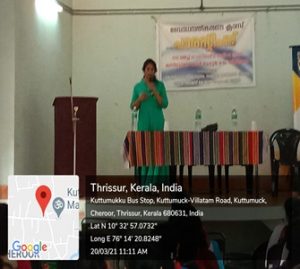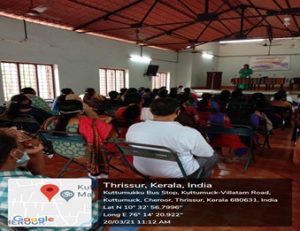 PROGRAMME SCHEDULE
PRAYER :
WELCOME SPEECH : Ms. Christeena Varghese
(Social Work Trainee)
PRESIDENTIAL ADDRESS: Dr. (Sr.) Alphonsa Mathew
(Vice-Principal, St. Thomas College)
INAUGURATION : Adv. Villi Jijo
(9th Division Cheroor)
FELICITATION : Dr. Vimala K. John
(Asst. Prof. Department of Zoology,
St. Thomas College, Thrissur)
AWARENESS CLASS : Smt. Smitha Sathish
(Former Member of JJB, Psychologist)
VOTE OF THANKS : Ms. Amrutha Raj T.R
(Social Work Trainee)
The major points were:–
Parenting has always been tough, but home schooling, working from home, and all the financial uncertainty surrounding COVID-19 has made it even tougher. These parenting tips can help you cope.
The unique stresses facing parents during COVID-19 Helping your kids with online classes and schoolwork
Join forces with other parents.  Connect with your child's teacher. Create a learning routine. Set goals—and celebrate their completion.   Get creative with lessons.
Dealing with your child's fears and stress   Talk at an age-appropriate level. Answer questions simply and honestly.   Be understanding   Arrange virtual playdates.  Give extra love and affection. .  Designate special one-on-one time.   Find things to be grateful about.
Keeping healthy routinesEstablish healthy new routines.  Follow safety advice. Reinforce the importance of hygiene and handwashingPractice what you preach.
Managing behavior problemsRedirect your child. .Take a breath.  Give your child a creative consequence.  Reward good behaviors, Never yell at or spank your child Sometimes, it may be best to do nothing. .
Share This Story, Choose Your Platform!