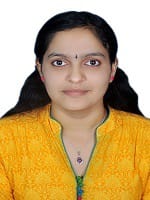 Veena Venugopal, M SC Zoology (2015-2017), JRF AIR 105.
Department of Zoology, Winners of CSIR NET/JRF
2015 17 BATCH
Veena Venugopal JRF
2017 -19 Batch
Rahana P A – JRF
Christeen Davis – JRF
2018-20 BATCH
Lakshmi Radhakrishnan JRF, AIR 58
Mary Martin, NET
Navya G Menon NET
Department of Chemistry, JRF Winners
Aswarya chandran
Aiswarya P
Keerthana
Department of Mathematics
Pavithra Hariharan (BSc Maths2018) cleared NET JRF with AIR 88.
Share This Story, Choose Your Platform!