DEPARTMENT OF FORENSIC SCIENCE
OUR DEPARTMENTS
Ms. Anju K Vijayan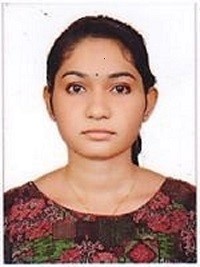 Address:
Kuzhimattom (HO)
Murikkumvayal
Karinilam P.O
Mundakkayam
PIN: 686513
Email
anjukvijayan5229@gmail.com
Academic Qualification:
 Master Of Science (M. Sc) 2019- 2021 Forensic Science Specialized in Forensic serology and DNA profiling, Kerala Police Academy, University of Calicut
Bachelor Of Science (B.Sc) 2015-2018 in Zoology at BCM College Kottayam, Mahatma Gandhi University
Research Interests:
Forensic biology
Serology and DNA
Awards / Success:
Qualified Forensic Aptitude And Caliber Test (FACT) 2022 in Forensic Biology
Webinar/ Workshops Attended:
One day workshop on Fold scope conducted by St. Joseph's College, Irinjalakkuda.
Hands on training on DNA isolation and thermal cycler
Two months hands on training from Regional Forensic Laboratory (RFSL), Thrissur.
Participated in the 'National Workshop on Emerging trends in Forensic Science' conducted by Kerala Police Academy.
Successfully completed two days National Workshop on Cyber Forensics & Crime Investigation an outreach workshop of Technex' 19 IIT Varanasi in association with Innovians Technologies held at St Joseph College, Irinjalakuda.
Virtual workshop on Next-Generation Forensics conducted by Department of Life Sciences, University of Calicut collaborated with M.Sc. Forensic Science programme, Kerala Police Academy.
Internship/Experiential Learning
The one-week internship programme at DCRB Trissur Rural, Kerala.
One week of practical experience at Chemical Examiners Laboratory, Trivandrum, Kerala.
One month of training at RFSL, Thrissur, Kerala
Two months of practical experience at RFSL, Thrissur, Kerala
Completed certificate course on DNA Decoded from McMaster University offered through Coursera
Attended various webinars and virtual workshops conducted by leading institutions and companies (Randox, ICFSA, NFSU, Amity University, Raksha Sakthi University etc.)
Participated and be a part of paper presentation on 'Preliminary tests for unmasking Adulterants in food' at two days national conference organized by the Department of studies in Criminology and Forensic Sciences held at Karnataka University, Dharwad
DEPARTMENT OF FORENSIC SCIENCE